Life would be great if we could just remodel the rooms in our house by just snapping our fingers, without any stress, overbearing construction workers or any budget constraints; life would be great! Since we cannot change anything by simply snapping our fingers, we can make intelligent choices without a budget and make the desired changes. Especially if you want to transform your bathroom, we'll give you several ideas to try and level up your interior design.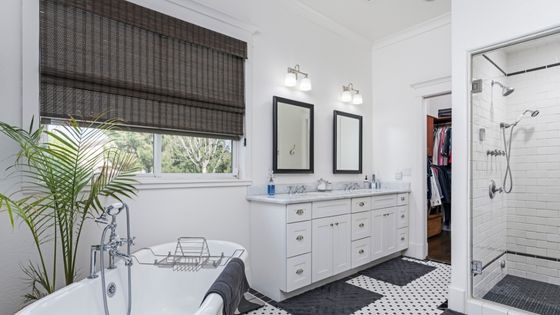 Upgrade just one statement piece
Upgrading a statement piece can be as effective as remodelling the entire bathroom. You can easily update your sink, bath or shower to achieve such an effect. Consider changing the sink to a vessel sink, pedestal sink, vanity sink or wall-mounted sink. By updating one statement piece, you create a different focal point, and you can easily introduce other changes.
Go light or go dark
Next, you can change the wall colours to accommodate either a light theme or a dark theme. Both are equally popular, so this can be a tough choice to make. However, if these don't spark your imagination, you can try a change that isn't as permanent. You can use removable wallpaper and transform your bathroom with ease. You can play with colours, designs, and patterns to turn a boring bathroom into a gorgeous one.
Enhance the room with mirrors
Have you ever considered turning a wall into a mirrored wall? Instead of having only one vanity mirror, you can turn the entire wall into a reflective surface and make the bathroom appear larger and spacious. If this sounds like too much work, you can simply add several mirrors to the wall. Alternatively, you can add a frame to the existing mirror and refresh it with a peel and stick design of your choice.
Add better light
The light in the bathroom is either too bright because the space is small, or it's insufficient because it's positioned overhead. Every bathroom is different, and you can use this to make changes to your current lighting solution. You can have both an overhead light and additional lighting fixtures above or next to a mirror, and you can add some light behind a mirror. This will create the effect of a backlit mirror and create a great setting for daily makeup application.
Opt for clever bathroom storage
When it comes to storage space in your bathroom, you have to be smart about it because you have limited space. Since there will be some things that should be kept hidden in your bathroom, like cleaning chemicals, go for closed-off storage. Furthermore, you can maximise wall space by hanging shelves where you can store towels and other bathroom necessities.
Add new bathroom features
If you truly want to transform your bathroom, try adding new features to it, like a bidet. A bidet is a sophisticated addition to your bathroom that doesn't have to take up too much space. The best part about it is that you can install a bidet seat to your existing toilet or go for bidet attachments that will transform your toilet into a bidet. By transforming your bathroom with advanced and affordable bidets, you'll also transform your hygiene habits. Either way, you can easily merge your current toilet and a bidet extension and transform
Switch to new bathroom mats
You can switch to the new set of bathroom mats to add a touch of sophistication and also wem up the floors a bit. A soft and textured bathroom mat can keep you comfortable and warm when standing on cold tiles isn't as comfortable as it is in the summer. Bathroom mats are often overlooked because they serve a purpose. That's why they can easily become dated and worn out without us even realising it's time for an upgrade. You can also play with colours and textures and mix and match different styles.
Introduce new accessories
From towels to a new soap dispenser, there's a way to infuse a dash of luxury into your bathroom. Accessories are a simple addition, but they can change the entire energy of your bathroom. You can colour coordinate everything, from the towels and bathrobe to bathroom mats and shower curtain. Or, you can play with colours and textures and not limit yourself to one colour – you can colour block your towels and your shower curtain while keeping the bathroom mat in a neutral shade. You can also add some scented candles, crystals and other spa-like accessories for a spa day at home.
Potted plants
A dash of greenery in your bathroom can elevate the decor and add a natural feel to the space. Go for something suitable like a spider plant or a fern, which can easily thrive in a bathroom environment.
These nine ideas will inspire you to take the proper steps to transform your bathroom. While some are more complicated than others, all of them are amazing, and you'll be happy with what you did with the place. In addition to these ideas, you could also make a Disabled Bathroom Design if you have disabled loved ones living at home with you or visiting you regularly.