We all love our outdoor spaces as much as we love our indoors, or maybe even more! So it isn't a bad idea to give it a makeover and make the most desirable outdoor spaces that would make you want to hang and chill out all day! For starters, the most important part of making a solid outdoor space would be to have the perfect flooring that is cost effective, easy to maintain and that can stand the storms of all weathers.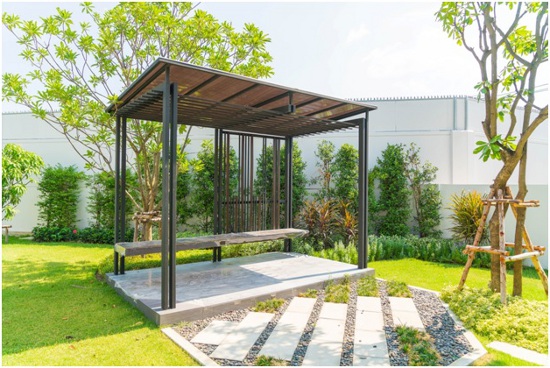 Natural stone is inherently tough and versatile enough to be used for a variety of purposes both indoors as well as outdoors. Here are a few reasons why natural stone is an excellent addition to your outdoor spaces.
Durability
Because of its natural formation and composition, natural stone bears unmatched durability compared to any other material. It takes years for a stone to form beneath the earth, where the rocks are subjected to high amounts of heat and pressure. This is what makes its strength unbeatable, hence a preferred choice to have for your outdoors that not only see heavy foot and vehicular traffic, but also face an onslaught from nature.
Aesthetics
Not only is natural stone indefensive when it comes to strength, it is also the most timeless and ageless material to use for your spaces, whether indoor or outdoor. Tiles that are produced in factories will come in designs that are in trend and there will always be new designs, patterns and textures that we will see emerging in the tile space in the years to come. But natural stone is not made in a factory. It is formed due to the natural reactions that occur in nature and every piece of stone will be distinctive. This quality of the stone is what will reflect in your home too. Your outdoor spaces will look eternally timeless and charming.
Low Cost
Natural stone is found embedded in the earth and apart from its extraction cost, there is very minimal processing cost as the stone doesn't need any hectic processing to go through. Compared to tiles that are fully manufactured in factories, the overheads are comparatively lower. Where the life of tiles is arguable, natural stone comes with unbeatable durability, which makes it a preferred choice over tiles. There are a variety of natural stones available in the market with varying costs like kota tiles, limestone, granite, travertine tiles, marble tiles and so on. Where marble and kota tiles may be steep when it comes to pricing, since they have to go through some amount of processing to make them smooth and usable, other natural stones have a significant cost advantage because they are completely natural and go through lesser processing compared to the former.
Environment Friendly
Natural stones are naturally formed and obtained from the embedded layers of the earth. They are mined, extracted and processed further to be made usable. Although there is mining and some amount of industrial processing that goes in, it is still a much kinder process for the environment and way less polluting compared to that of manufacturing of tiles. Thanks to the increased realization in people, sustainable practices are introduced and put to use even in extraction and processing facilities to ensure that there is minimal wastage and consumption of energy in making them usable. Even industries have become conscious in their practices and are operating responsibly to ensure there is reduced burden on the environment. By choosing natural stone, you are choosing sustainability and a healthier environment.
Increase your property value
Natural stone cannot be valued in quantity. It is after all a precious gift of nature and using natural stone in your home will only increase the value of your property. The ageless factor of natural stone is what will make your property aspirational and add a touch of heritage, thus increasing its value.
Easy Installation
Whilst these may be slightly heavier compared to tiles, they can be easily installed. Be it rain or sun, natural stone can be installed in any weather and takes a lot less time and money. For a quick, standard and efficient outdoor space, this is the best option for flooring.
Getting non-slip surfaces
The surface of natural stone is textured, grainy and rough – all of which helps increase traction and reduce the chance of slipping. For your outdoors, this is the best choice for flooring since the area will be exposed to moisture during rains and while watering your plants. During such times, it is best to have flooring that can save you from mishaps and accidental falls that could be detrimental to your life.
Heat resistant surfaces
If you are living in a tropical region, natural stone is the best choice for outdoors since it absorbs the heat and controls temperature. This makes the area cooler and tolerable during the summers. You don't have to be worried of burning your feet during the summers since these stones will help in keeping your patios cooler.
Water and humidity proof surfaces
Natural stone is impervious to water and humidity. The stones dry up very quickly when exposed to water and this quality makes it yet again, an appropriate choice for your outdoors that witness exposure to water due to gardening and during monsoons.
Easy To Maintain
Natural stone can withstand heavy wear and tear without showing obvious signs of distress. Their beauty remains pristine and this makes it very easy to keep them clean and maintained. Just one clean sweep or one wet wipe and it is good to go.
Great In All Seasons
Natural stone can withstand the harshest of weathers – from the heat of summers to the chill of winters to the constant wetness of monsoons. Thus for your outdoors, which are often directly exposed to the weather, natural stone makes a great choice.
The benefits of natural stone are innumerable. Right from them being durable to being ageless and eternal, outdoor tiles add an exquisite charm to any space that they are installed in. So if you're looking to build outdoors that will look the part and play the part too, natural stones are the way to go!