You are a wine lover looking forward to an all-wine glass display to lend an air of sophistication and luxury? But do you know that you should be extra cautious while storing your glass bottles in glass enclosures? The primary reason is that you need to set the temperature right for storing your precious assets.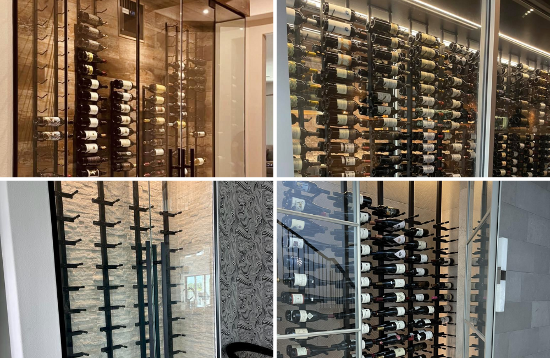 No matter how exciting it is to design the glass wine cellar, you need to consider several aspects to make sure that the design elements are perfect and the bottles are safeguarded from the worst.
Here are the things you need to keep in mind if you are planning to store your bottles in an all-glass wine cellar.
• Check UV Light Protection
An air of sophistication is a much sought-after option for the makers of glass-built wine cellars. But do you know that it is crucial to protect your cellar from the harmful effects of UV rays? UV light can hamper the quality of wine, causing the degradation of flavors. The first step is to examine the quality of the glass to ensure that it is UV-resistant.
Next, you need to apply a special UV coating on the glass to filter the rays. An all-glass wine will have all the opportunities to let UV rays if you fail to choose darkened glass. Finally, you need to place the cellar strategically to ensure that the cellar stays away from direct sunlight and use external devices to safeguard your wine bottles. A modern glass wine cellar should include all those features that guarantee the quality of the product.
• Placing The Glass Cellar
You might be overwhelmed with the modern and luxurious designs and models of glass wine cellars but do you know where to place it exactly? Well, the size of the cellar will depend on the number of bottles and the frequency of consumption. You need to ensure that the cellar is suitably built and should have a reasonable size. Try to choose a space where the cellar will stay static and not move at all. Wine bottles need to stay in a quaint space that is not subject to vibrations. The best place to keep the wine cellar is the place below the stairs as that is a niche area where the wine bottles will stay undisturbed. Now, you need to know how big or small the space where you are aiming to put the glass-made cellar is.
• Should You Have A Glass Door In The Cellar?
One of the considerations when designing a glass wine cabinet is whether to install doors. There is no denying the doors offer greater protection to the bottles. However, find out if there is adequate space for you to open the enclosure, especially if you install glass-made doors on storage options that are made for cramped spaces.
Why don't you have a rack-like structure inside the glass enclosure to ensure that there is much less pressure on the cellar? You can also install mirrors instead of glass doors to create a feeling of illusion and look like a floating rack of glass. That way, you can also keep the bottles away from prying eyes if you prefer privacy over your knack to display the wine collections.
• What Kind Of Glass To Use?
You are all set to store your wine collections in a glass cellar but do you know what kind of glass to use for the cellar? You have the option of insulated vs non-insulated glass. Instead of checking online, a better option would be to consult with Wine Cellars of Houston if you are in Bellaire, Conroe, Friendswood, Humble, Katy, Kingwood, Lake Jackson Houston Texas, and need a wine cellar right now. They are one of the best makers of custom wine cellars near me. Insulated glass offers maximum protection to the wine bottles but it may hamper the aesthetics. That is why you need to use tempered glass with frameless options to lend an exquisite touch to your wine storage option.
• Is Climate Control Necessary?
Glass as you know has poor insulating properties, allowing heat to pass from the outside to the inside. If you are constructing a glass wine cellar for your home, make sure to install a climate control feature in the equipment. You need to install a cooling unit to stabilize the humidity and temperature levels in the storage. That way, you can prevent spending money on wine cellar repair frequently.
Modern wine cellars use high-quality tempered glass along with climate control features for storing and showcasing wines. If you want to appoint an expert to get one, you need to consider installing the necessary attributes to preserve the aesthetics of glass and functionality to prevent the bottles from degrading easily.