Many groups use your gym's floor, from basketball players and dancers to marching bands. In the absence of regular maintenance, the surface of your gym will quickly get marred by dings, gouges, and other imperfections. Your gym floor will be safe from harm when you take the proper safety measures. Protect your gym's floor from the wear and tear of regular use by following these steps.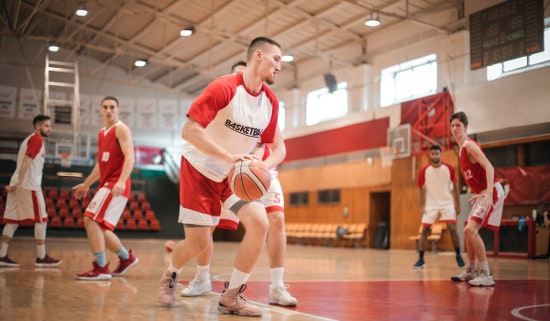 Clean the Floors Regularly
hen your gym is busy, you need to keep the floor clean. Sweat and other body oils can harm flooring, and a thorough cleaning will remove both. Your fitness center still requires regular cleaning, even if it's a little used. Every time you go to the gym, the floor will be covered in dirt and dust floating in from the outside. Taking care of the dust on your gym floor should be your first order of business. You may have to do this multiple times a day. A microfiber dust mop, explicitly designed to trap dust, is the perfect tool. Your floors should be thoroughly cleaned at least once every week. To get your floors genuinely spotless, ditch the mop in favor of an automatic scrubber. Use the scrubber and wood floor cleaner to thoroughly clean the entire floor. You should head toward the far end of the gym from one end. Water seeps down and destroys the floor, so be careful not to flood the room. Use only one reliable cleaning service. The floor's finish may be harmed if multiple cleaning products are used.
Make Use of Exit Mats
Many individuals walking around on the gym floor can bring in a lot of dirt and dust. You can avoid this problem by putting walk-off mats in front of the gym's entrances and requiring visitors to wipe their feet before entering. The custom logo mats serve little purpose if they aren't clean and may even invite more dirt into the gym. Daily vacuuming of the walk-off carpets is necessary to prevent dirt from being tracked inside the building by guests.
Protect Your Floors with Mats
It doesn't matter how often you clean the gym floor; performing groups will quickly wear down the surface. A protected floor cover is a great way to keep your gym floor safe. The cover safeguards your fitness center floor from dings, scratches, and scuffs. The cover's softer surface may even be a hit with your performers. A floor cover is helpful for events like dances, banquets, and other gatherings where there will be a lot of food and drink. Vinyl is a common material for gym floor coverings since it is inexpensive and long-lasting. There is a wide range of sizes and weights to choose from when shopping for a cover. A thicker rug or carpet can better shield your floors from damage. Any size of floor can be covered by requesting a custom cut. Multiple floor covers, such as a complete gym, can be overlapped to cover a larger area. If you want to give your gym floor a truly unique look, try painting the covers.
You Should Not Use Tape
The adhesive in tape might damage the finish of your floor. Your floor will suffer wear and tear and must be refinished more frequently. Make advantage of washable tempera paint if you need to draw game lines. It can be wiped at any moment without damaging the floor and leaves no residue behind. Use only white paint if you don't want it bleeding into the floor. You should also avoid painting the floor for at least a month after restoring it.
Conclusion
Whether basketball players or marching bands, your gym floor is sure to be used to good use. First, you should sweep off the dust that has accumulated on the floor of your fitness center. The entrance mats must be vacuumed every day if they are to repel dirt. A protective floor cover is an excellent choice for a gym. The surface prevents damage to your gym floor from dropping weights or other sharp objects. It is possible to cover a more significant area, such as an entire gym, by overlapping multiple floor coverings. Use washable tempera paint to make game lines that won't show after a quick rinse.