As the monsoon is starting. Many of you are planning to visit different places. But you must go to some famous places in MP as it will be safe also. Because during monsoon going to a hill station is quite risky. You can easily go to the famous places in MP by train. Passengers can now order Food On Train through different websites like zoopindia, travelkhana, gofoodiconline, yatribhojan, railrestro, rail yatri, the official IRCTC site, and many more.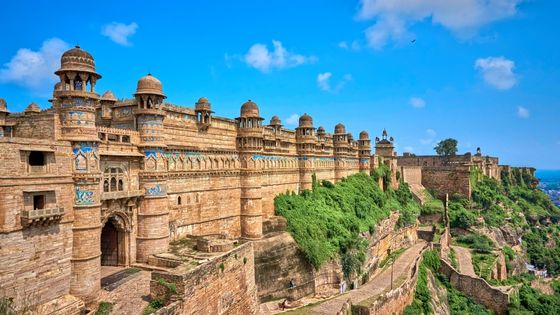 Madhya Pradesh is a treat for every kind of traveler, drawing in a significant number of visitors from the country and other countries. Madhya Pradesh will charm you in unexpected ways, whether you are looking forward to the thrill of living in the world of nature or the richness of royal treatment.
Tourists are in for a visual treat when visiting Madhya Pradesh's attractions, which are blessed with rich animals and fascinating history.
Visit Khajuraho By Train In MP:
Madhya Pradesh is a well-known tourist state in India and is frequently referred to as the "Heart of India." This may be because of its advantageous location. With settings that perfectly capture the country in miniature, it is actually the ideal place to visit. The state of Madhya Pradesh is a wonderful example of India's unity in variety thanks to the coexisting cultures of Hinduism, Islam, Sikhism, Buddhism, Jainism, and other faiths. This state has several locations where you can find the ideal fusion of art, culture, history, and architecture. There used to be 83 temples in this location, built over a 100-year period from 950 to 1050 AD, but only 22 have managed to withstand the passage of time.
You can reach Khajuraho by train, air, or road. But trains can be the best option. You can take the train up to KHAJURAHO KURJ Railway Station. You can also order food online on the train.
How To Reach Ujjain MP By Train:
You can get regular trains from different cities to Ujjain. There are many trains that travel to Ujjain junction railway station daily. Online Food On Train is also there. Through which you can order different famous dishes from the stations that deliver food along your route. From Ujjain junction you can easily get the local vehicle to visit the rest of the city.
Hindu believers travel from all over the world to visit this city, which is a major draw. The Mahakaleshwar Temple is one of the most imaginative temples in Ujjain. One of the 12 important Jyotirlingas can be found in this ancient temple. This temple is thought to be one of Lord Shiva's abodes in Hinduism. The Bhartrihari Caves, Bade Ganeshji Ka Mandir, Vikram Kirti Mandir, Chintaman Ganesh, Kaliadeh Palace, KalBhairava, and Durgadas Ki Chhatri are some additional city attractions that visitors can visit in addition to this temple.
Visit The Most Beautiful Panna City Of MP By Train:
In the Chhatarpur district of Madhya Pradesh, Panna is one of the most popular tourist sites. The area has well-maintained fauna and offers a Royal Bengal Tigers sanctuary. The national park, which covers an area of 542.67 sq km, is home to a variety of wildlife including the leopard, wolf, hyena, sloth bear, and chital. Additionally, 200 different bird species call the park home. A benefit of the national park's location is that it is close to the well-known town of Khajuraho.
You can reach Panna from KHAJURAHO KURJ Railway Station through cab or other local services. There are many trains that travel to Khajuraho. Kurj Kanpur Central Passenger Train (51801), Kurj Udaipur City Express-19665, Kurj Jhansi Passenger-51822, KurjHazrat Nizamuddin Express-22447, KurjNzm Spl-02449, and many more. All these have online Food On Train services in them. Through this, you can order food online from top-class and hygienic restaurants.
How To Reach Bhopal And Gwalior Through Train?
Both of these places are famous places in Madhya Pradesh. You can reach these places by air, road or by rail. But rail can be the best option. The Bhopal Junction is the busiest railway station and through the Gwalior railway station, there are many trains that pass per day. You can have food on train service at different stations on your way to these stations.
Bhopal: The lovely capital of Madhya Pradesh, in the center of India, Bhopal is a city that derives importance from both a modern and historical perspective. Due to the two beautiful lakes that are situated in the middle of the city, it is also known as the City of Lakes. Bhopal is one of the most well-known cities and tourist sites in India and is built on a series of gently sloping hills. It has a rich history that is the ideal blend of traditional and modern. Bhopal's new city, which was carefully planned, contains wide avenues, well-designed residential colonies, and contemporary structures, whilst the old city boasts bustling.
Gwalior: Gwalior is a lively city in Madhya Pradesh that is teeming with activity. The city has lived under the authority of numerous dynasties and has supported singers and artists to spread the word about this location via their music and writings. All significant Rajput clans, including the Tomars, Pratiharas, and Kacchwahas, have given the city a rich historical culture. Grand palaces, artistic landmarks, and temples are all present in the city.