Are you looking for some fun things to do in Boston? Boston has plenty of exciting activities to offer whether you're a local or a visitor. From historical sites to outdoor activities, there's something for everyone. Get ready to explore the city and have a great time!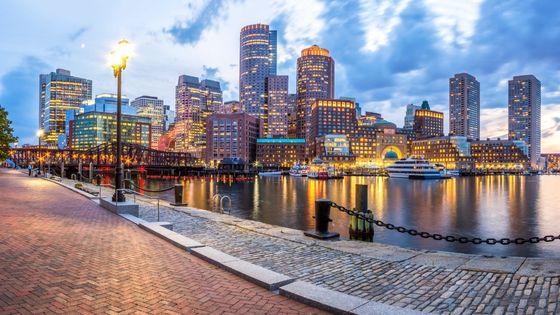 Outdoor Activities to Enjoy
Boston is a great city for outdoor enthusiasts! There are plenty of activities to enjoy, no matter the season. Whether you're looking for a stroll in a park or something more active like kayaking, there is something for everyone.
Take advantage of the warm weather during the summer months and explore one of Boston's many beaches. Head to Revere Beach or Castle Island for swimming, sunbathing, and even surfing. Or, if you'd prefer exploring on land, go hiking in the Blue Hills Reservation or rock climbing at South Boston Quarry.
Take a romantic boat ride around Boston Harbor Islands in spring and fall with friends or family. Enjoy the stunning views as you bask in the sunshine while relaxing on deck. And remember to bring your camera – you won't want to miss capturing the magical skyline!
No matter what time of year it is, there are plenty of opportunities for outdoor fun in Boston. Go bird watching at Jamaica Pond or head to the Arnold Arboretum for some nature photography. In winter months, bundle up and hit the slopes at Blue Hills Ski Area or try snowshoeing in one of Massachusetts' many state parks.
With so much beautiful nature surrounding it, Boston is sure to provide endless entertainment options outdoors!
Cultural Attractions to Explore
Boston is a great city for culture lovers. It's home to some of the most renowned cultural attractions in the world, from the amazing Museum of Fine Arts to the awe-inspiring Isabella Stewart Gardner Museum.
The Museum of Fine Arts is a must-see for any art lover. Its vast collection of European and American art spans centuries and includes works by masters such as Monet, Rembrandt, Renoir, Degas, and Cézanne. The museum also houses an impressive Egyptian collection that includes mummies and sarcophagi. In addition, there are rotating exhibitions featuring contemporary artists from around the world.
The iconic Isabella Stewart Gardner Museum is another must-see cultural attraction in Boston. Isabella Stewart Gardner created this unique museum in 1903 to house her art collection. The museum comprises several galleries featuring Renaissance paintings, medieval tapestries, Japanese screens, and Chinese porcelains, among many other works of art from different cultures and periods. Visitors can also explore the museum's lush garden courtyard – a tranquil oasis in the city center – or attend one of its many special events, such as concerts or lectures.
History buffs should visit the historic Faneuil Hall Marketplace in downtown Boston. This bustling marketplace brings together dozens of restaurants and shops selling everything from clothing to food souvenirs worldwide. Also part of Faneuil Hall Marketplace is Quincy Market – a historic shopping mall with over 100 stores ranging from coffee shops to clothing boutiques. Furthermore, visitors can also take guided tours through this iconic marketplace and learn about its rich history dating back to 1742!
Boston offers numerous other cultural attractions such as Harvard University (the oldest university in America), John F Kennedy Presidential Library & Museum (dedicated to President Kennedy's life), or Fenway Park (home to one of America's most beloved baseball teams). With so much culture packed into one city, it's no wonder why Boston is often referred to as "America's walking city."
Shopping Experiences in Boston
Boston is an exciting city with plenty of unique shopping experiences. Whether you're looking for trendy boutiques, iconic department stores, or even a few surprises, there's something for everyone to explore.
One of Boston's most popular shopping spots is the Newbury Street area. This eight-block stretch of shops and restaurants offers everything from designer clothing stores to home furnishings and art galleries. It's also a great place to find one-of-a-kind souvenirs and gifts.
The city has Copley Place and Prudential Center for those looking for more traditional shopping options. These two interconnected malls offer all the luxury brands you could dream of and plenty of other retailers and dining options. The Shops at Prudential Center are not far away, including several unique restaurants and stores like Urban Outfitters and Rag & Bone.
If you're looking for something completely different, head over to the SoWa Open Market in the South End neighborhood on Sundays during the summer. This outdoor flea market features everything from handmade jewelry and vintage clothing to artwork made by local artists. You can also find delicious food trucks with some of Boston's best eats here!
Lastly, no visit to Boston would be complete without a stop at Quincy Market in Faneuil Hall Marketplace. This legendary market dates back to 1742 and is home to over 100 shops selling everything from souvenirs and crafts to candy and apparel. Quincy Market also hosts live music performances throughout the week, which makes it a great spot for browsing before dinner or drinks!
Dining Destinations to Try
Boston is known for its culinary excellence, with a wide variety of restaurants ranging from high-end establishments to hole-in-the-wall eateries. Whether you're looking for traditional New England fare or something a bit more adventurous, there are plenty of delicious dining destinations to explore in Boston.
For a unique and memorable experience, head to the North End and enjoy some classic Italian cuisine at one of the many neighborhood restaurants. From pizza and pasta to seafood dishes and desserts, you'll find something to satisfy your appetite. Stop by Mike's Pastry for cannolis or Modern Pastry for cookies, cakes, and other treats.
Seafood lovers should take advantage of the acclaimed Neptune Oyster in the North End, where they serve up an array of freshly shucked oysters alongside classic fish dishes such as cioppino and fried clams. In the South End, Toro offers creative tapas and innovative cocktails in a cozy setting. For an upscale meal with views of Boston Harbor, try Meritage Restaurant & Wine Bar.
If you're looking for something casual but still flavorful, check out some of Boston's food trucks, such as The Chicken & Rice Guys or Bon Me. These popular mobile eateries offer everything from tacos and quesadillas to sandwiches and salads at reasonable prices. And finally, don't forget about Chinatown – numerous restaurants serve traditional Chinese dishes like dim sum and dumplings that will tantalize your taste buds!
Nightlife Hotspots to Visit
Boston is known for its vibrant nightlife, and there are plenty of hotspots to explore. From live music venues to modern bars, Boston has something for everyone.
Suppose you're looking for live music, head over to Paradise Rock Club or The Sinclair in Cambridge. Both venues feature various local and national touring acts from all genres. For a more laid-back atmosphere, try the iconic Cheers Bar & Grill on Beacon Hill, where you'll find everything from trivia nights to karaoke.
For craft cocktail options, head to The Hawthorne in Kenmore Square. This speakeasy-style bar features craft cocktails with high-end spirits and fresh ingredients, plus plenty of local beers on draft.
If you're looking for a rooftop bar experience with great views and an eclectic menu of drinks, food, and entertainment, look no further than the Grand Canal at the Envoy Hotel in Boston's Seaport District. With its two rooftop decks overlooking the harbor and skyline views of the downtown area, this place is perfect for enjoying sunsets over Boston Harbor while sipping handcrafted cocktails.
Regarding late-night entertainment options in Boston, The House of Blues is a must-visit spot for any music fan. This venue hosts concerts from local and national acts across all genres, comedy shows, and even private events like weddings.
No matter what kind of nightlife experience you're looking for in Boston, something here will suit your tastes perfectly!
Conclusion
Boston offers so many fun activities for everyone, no matter your interests! From visiting historical sites to enjoying outdoor activities, exploring cultural attractions, shopping at unique stores and trying the best restaurants in town, or simply partying the night away at popular nightlife hotspots – there's something for everyone in Boston. So come on and explore the city of Boston – you're sure to have a good time!