It would be unusual for someone not to be nervous about their wedding day. It's not necessarily just the act of standing in front of family and friends and saying your vows, and it's not just the excitement-causing nerves. Often, it's also about the fact that weddings take a lot of organizing, and by the time the big day arrives, everyone involved is feeling the pressure of getting it right, and they might be exhausted by the whole process.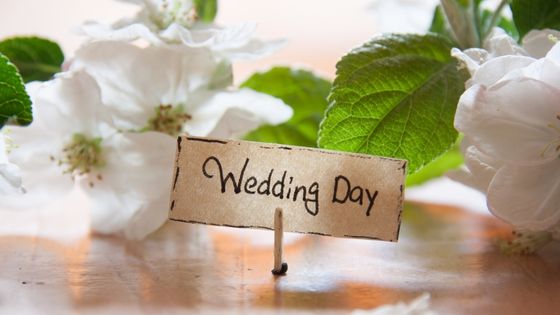 With that in mind, how can you prepare for your wedding day and reduce these nerves as far as it is possible? You'll want to enjoy the day, so it's best to work out a way to be calm. Read on to find out more.
De-Stress
The idea of de-stressing before your wedding day might seem to be completely impossible, but the truth is it's necessary, and you should work out how to do it. The more stressed you are, the less you're going to enjoy your special day, and you might even feel physically unwell because of it.
De-stressing comes in many different forms, but no matter what you do, you'll need to take some time to yourself. This means you might have to delegate some of the things you have to do or even draw a line under it all and say that whatever still needs to be done is not important and isn't needed. Read a book, take a bath, watch a movie, hang out with friends, go for a run – the choice is yours, but make sure you aren't doing wedding prep until the eleventh hour.
Organize A Gift
As we've said – and as you no doubt know – there is a lot to do before a wedding. It's easy to forget things (which adds to the stress and nerves), and one thing many people forget is a gift for their new spouse. It's not mandatory, of course, but it is a nice tradition, and it's a good way to start married life off in the right way.
The gift you get should have a lot of meaning and, therefore, you'll need to put some thought into it. Something that is often highly appreciated and that can even blend in with giving you some time to relax is a bridal boudoir photoshoot. You can either do the shoot yourself and give your spouse a photo of yourself looking gorgeous, or you can book it for your spouse to do on their own. Either way, it's the kind of gift that everyone will love.
Focus On Your Physical Health
Your physical health is crucial as you get closer and closer to your wedding day, especially if you have been actively trying to lose weight – many people do so they look and feel good on the day. Losing weight for your health is a good thing, but you must do it carefully, and you must take care of your health through the process.
This is why the best thing you can do to stay healthy and be in the best shape you can be for your wedding is to eat balanced, healthy meals (and not skip any), exercise regularly, and sleep well, ideally for at least seven to eight hours a night. If you can do all of this, your good health will shine, and you'll feel amazing throughout the whole day.