Are you planning a social or a corporate event? Undoubtedly, providing the best meals to your guests is one of the most important factors.
Well, planning and arranging catering is really complicated tasks. But easing the decision to prepare food, a corporate event catering service provider can help you. With excellent presentation and delectable food, the caterer will make any event memorable for your guests.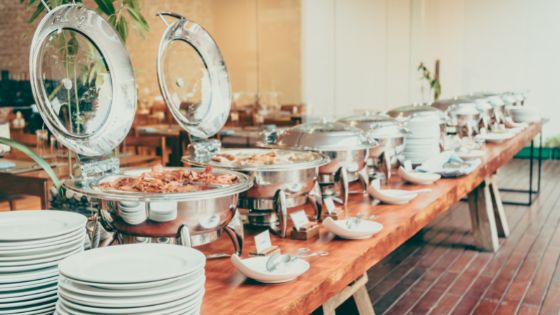 We have created a guide that consists of the advantages of hiring a caterer. Hence, the points in this write-up will guide you if you are indecisive on whether to hire a catering service or not. Read on to know how a caterer can offer immense value at your special event.
Topmost Perks Of Hiring A Caterer An Event
1. Save time
To plan an event, one needs to give time on event planning and finding the right buffet catering or food station.
Event planning is a difficult task by itself, and adding the catering task to it makes it more difficult. So, hiring an event catering will save your valuable time.
You can describe the menu and other things to the caterer. Later they will manage arranging raw material, the ingredients, and other important things needed for food. Hiring a good caterer will allow you to relax and stay stress free. Furthermore, you will be able to stay focused on other fields of an event.
2. Quality of food
Opting for a professional caterer implies that the meals provided at a social event are of good quality. They set a standard for food quality so that guests can enjoy a meal.
As you know, good food is the heart of an event, so it's important to serve high quality meals.
Furthermore, if you are not serving a quality meal, this may show major consequences. Your guests will not enjoy the meal thoroughly.
3. Hassle free food preparation
No worries about food preparation!
Usually, in a small social gathering or office event, cooking a meal becomes one of the major concerns.
Also, the task of food preparation in an event creates a lot of chaos and stress. That is why hiring an event catering service is a great decision. Here you don't need to worry about ingredients or using the right cooking style; the caterer will manage everything.
Right from buying ingredients to cooking meals, food delivery to serving, everything will be managed by catering service providers.
Moreover, choosing the right catering service provider for an event will treat your guests with exquisite and quality dishes. Also, they will offer a range of menu choices that help you to customize meals.
4. Safe and hygienic food
Hygiene is one of the most important factors that everyone should consider. Whatever the meal you are offering, it has to be hygienic and safe to eat.
Ask your caterer to provide the guarantee of hygienic food. You can ask them to sign a contract and include this point in it.
Moreover, a reputable caterer feels obligated to maintain safety standards. Hence, they work to protect your guest from any digestion issues after eating food. So, it is worthwhile to hire a responsible and reputed social or corporate event catering in your town.
5. A professional setup
Whether you are organizing a buffet catering or a food station, the setup comes first. It's essential to arrange food and present it in a better way. Therefore you can rely on a professional caterer to arrange food setup. Further, you don't need to worry about cleaning up everything once the event is completed.
You might have seen the mess up after an event, and the host has to clean it. But hiring a caterer will make you relax after the event. So, when you plan to hire a caterer, ask them to add a setup for flooding by considering your budget.
Let the professionals handle it and allow yourself to concentrate on other aspects.
6. Variety of food
It includes different cuisines and a variety of food. You can get different types of food for any event.
Let's take an example; if you are organizing an event catering Melbourne region, your caterer will provide a different menu based on your preferences. You can add Thai food, Chinese, Seafood, and other options to it.
The caterers can provide different food styles on a table to please your esteemed guests.
7. Professional assistance
In the end, hiring a caterer makes an event look professionally assisted.
If you are from the corporate industry and planning an event, then a caterer can enhance your brand image. They make sure that your guests feel attendant-well and pampered in an event.
Wrap Up
Are you ready to hire a professional for social or corporate event catering in your locality? We hope this article has cleared your mind regarding caterers and the benefits they offer.
Remember, comparing the budget and other specifications that the caterer will provide. And then stick to the best one in your list.
Good luck to find the best caterer!