We all heard that you should never skip your breakfast as it is the first and the most important meal of the day, which keeps us going throughout the day. Knowing this fact, some people still find it hard to make breakfast in the morning because some of them are mostly running out of time in the morning, or some are just too lazy to cook. There is always a solution to any problem, and some quick and healthy breakfast ideas can overcome this problem of yours.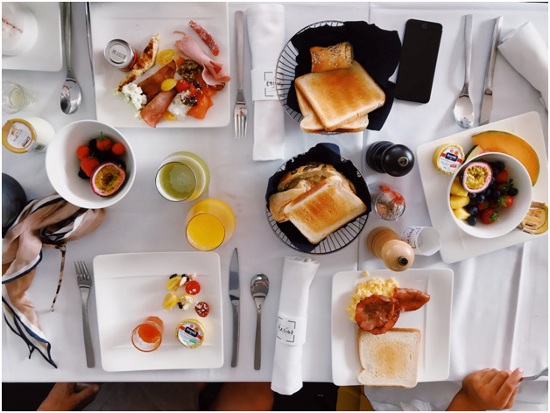 By going for some of the easy breakfast choices, you can kick-start your mornings and make your day a little better. So, let me walk you through some of the easiest and most delicious breakfast ideas that are going to get your attention, and you will most probably be going to try them out at least once in your busy morning routines.
Quick Breakfast Ideas for a Healthy Start
Opt for quick and speedy breakfasts instead of time-consuming recipes to kickstart your day right and have unlimited energy throughout the day with these seven breakfast ideas.
Fruits
The quickest and healthiest breakfast option of all time is definitely fruits. Just cutting your favorite fruits into some slices can make a great breakfast option without consuming a lot of time and filled with tons of healthy benefits. The best fruits to eat for breakfast include any citrus fruit, bananas, apples, kiwi, Avocado, Cantaloupe, raspberries, and blueberries. These fruits are rich in vitamins, potassium, antioxidants, and phytonutrients which are extremely healthy for you and make a great meal idea to start your day right.
Overnight Oats
Overnight oats are a perfect breakfast choice for busy mornings as they are a no-cook yet delicious and healthy option that takes only a few minutes to prepare the night before. You just have to combine oats, chia seeds, a pinch of salt, and cinnamon in a bowl or a glass container and cover it to refrigerate overnight. The next morning, put the oats out, stir them, and add your favorite berries, nuts, and seeds as toppings to enjoy an on-the-go healthy breakfast. The plus point to it is that you can store the oats for 4-5 days and enjoy them whenever you don't feel like making time-consuming breakfasts.
Fruity Smoothie Bowl
Smoothie bowls have always been a great option for speedy and delicious breakfasts as they are rich in fiber, allow better digestion, and are a healthier option infused with fruits. Firstly, take a few bananas, greek yogurt, frozen mangoes, and almond milk, then blend them until they are smooth and in a thick creamy texture. After that, add toppings of berries of your choice and finish off with sprinkling chopped nuts, shredded coconut, and chia seeds on the top. Now enjoy it and start your day with a fruity and nutritious breakfast.
Avocado Toast
Avocados are extremely healthy with many benefits and have a savory, buttery taste, making them the perfect choice for a nutritious breakfast. For making a quick and healthy avocado toast, toast the bread and spread the smashed avocado on the toast, then add a few slices of tomatoes and boiled eggs as toppings. Lastly, sprinkle some pepper and salt on the top, or if you are craving cheese, you can add a feta cheese layer to the toast. This is the perfect option for a tasty, cheesy, and healthy breakfast. Also, I recommend having avocado toast at least once to twice a week as it helps improve brain health.
Peanut Butter Banana Pancakes
For those who can't go a day without peanut butter, this pancake combination makes a speedy and healthy choice for you. First, mix a ripe banana with eggs, peanut butter, baking powder, and salt, then cook mini pancakes in a greased pan. Top with maple syrup, berries, or sliced bananas for extra flavor. These pancakes are packed with potassium and protein to keep you energized all day.
Veggie-Packed Omelette Roll
Egg lovers who are equally in love with the benefits of veggies will love this idea wholeheartedly. Begin by whisking three large eggs in a bowl until they become fluffy, and add a pinch of salt and pepper to season. In a non-stick pan, pour the egg mixture and spread it evenly, and when the eggs start to set, load one side with diced bell peppers, onions, tomatoes, and chopped spinach. Gently roll the omelet, letting it cook for a few more minutes, then slice and enjoy a delicious omelet roll which provides a healthy dose of vitamins, minerals, and fiber from the veggies, along with the protein punch from eggs, making it the perfect quick and nutritious breakfast to fuel your day.
Cereal for Keto Lovers
This recipe for keto-cereal is high in fats and fiber, just like the Keto diet. Firstly, preheat your oven to 350° and grease a baking sheet with cooking spray. Take a bowl and mix the almonds, walnuts, coconut flakes, sesame seeds, flax seeds, and chia seeds together. Add cloves, cinnamon, vanilla, and salt, then stir everything together. Separately, beat an egg white until it is foamy, and then add it to the granola mixture. Stir in coconut oil until everything is fully coated. Spread the mixture evenly onto the prepared baking sheet and bake for 20 to 25 minutes or until golden, stirring gently halfway through. Once it's done, let the cereal cool completely, then enjoy it.
Conclusion
For maintaining a healthy lifestyle it is important to start your day with a nutritious breakfast. With these seven quick and easy breakfast ideas, you can fuel up fast and stay on track with your wellness goals. From overnight oats to avocado toast, these meals are packed with nutrients to keep you energized and focused throughout the day. Incorporate these healthy breakfast options into your routine and start your day off right.