Fashion takes on a new form with every generation. A lot of clothing trends come and go, but nothing could replace the classic wearable—T-shirt.
In 2021, the global custom t-shirt printing market was worth USD 3.9 billion. Between 2022 and 2030, it is expected to grow at a rate of 9.9% per year.
Companies are increasingly using t-shirt photo printing as a modern branding technique to brand their organisation, goods, or offers. As a result, the increasing usage of personalised t-shirts as a branding tool is likely to contribute significantly to market development.
Wearing personalised apparel is becoming more popular in the fashion business. People choose to wear personalised t-shirts with special logos or messages put on them as a consequence. The entertainment industry is helping the market grow because a lot of people, especially people who like movies, buy clothes with slogans or logos on them.
For instance, TV shows like Game of Thrones and Stranger Things have a large fan base. Fans unquestionably spend a lot of money on t-shirts or other items with their favourite phrases or slogans written on them. This has led to the expansion of the custom t-shirt printing business over the past few years.
Furthermore, custom printed t-shirts are increasingly being used to raise social awareness and support a cause. Taking advantage of the same, a variety of industries, including hospitality, logistics, construction, industrial, and medical, are increasingly supplying custom printed t-shirts to their staff and consumers as a marketing tool.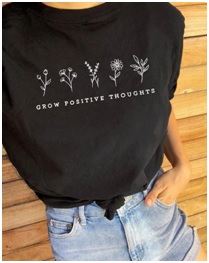 T-shirts and hoodies give designers unbridled freedom (which is their best part) to experiment with the designs and layout. If you want to go a bit different with your fashion statement, this blog is for you.
We've rummaged through the best design ideas on Pinterest and put them all together. Here are some ideas to help you design your own T-shirt or hoodie.
Become the undisputed trendsetter with these super-cool T-shirt printing Ideas
1. Sleeve –
Sleeves have minimal space but it can be utilized well with a clever design strategy. With a small quote text, a quirky pun or a dialogue, you can make the best of your sleeve and draw everyone's eyes to your T shirt design.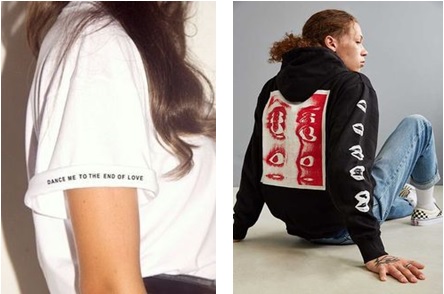 This is one of the most simplistic yet impactful design ideas that you can implement. Just make sure that a printing service collaborates with you thoroughly to execute the design, otherwise, it may not turn out the way you imagined.
2. Back –
Why focus just on the front when you can amaze with your looks from your back? You may have noticed in many T-shirt printing that they go with a simple logo or minimal design on the front, and have a bold one printed on the back. Not only does it look super cool but upgrades your fashion statement by 10 times.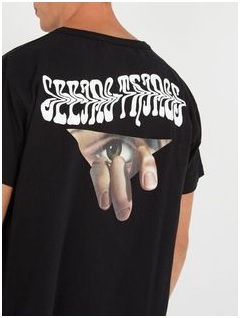 You can style this type of printed T-shirt with your normal jeans, sneakers, or shoes, and maybe add a couple of chains to your outfit. You can experiment with placing your photo or design in the centre or on either side of the tee.
3. (Front) Centre –
If you are a movie fanatic, this technique of custom T-shirt printing will suit you the most. Printing on the front side ensures maximum visibility and isn't too complicated when it comes to conceptualising the design.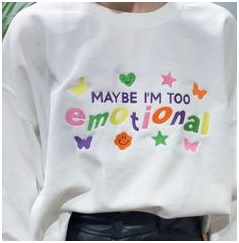 This is a T-shirt printed with the lyrics of famous teen-icon Olivia Rodrigo's song for your reference. The moment you walk on the street, people will turn around and dote on your style. And if you're a Y2K fashion freak, pair your personalised t-shirt with a low-rise skirt. Thank us later 😉
4. (Front) Sides –
If going too innovative with your T-shirt design isn't your thing, we've got you covered. With this technique, you can pick a simple design of your choice and place it on your desired side. In most cases, the left side is preferred for the t shirt printing. You will find this useful for both personal use and branding.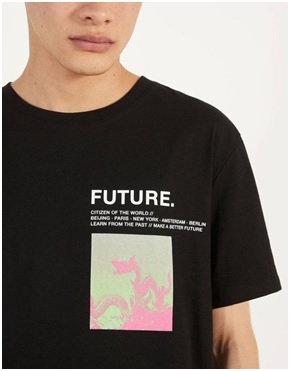 Just like this T-shirt, you can get yours printed through an online printing service or a retail outlet. Pair this with sleek chains and an eccentric belt to make the most of your outfit.
6. Collar –
We know you didn't see this coming (or did you?). Not everybody plays with graphics and uses simple text instead. But their choice of words is what makes the T-shirt's design the cream of the crop. Such text can be incorporated into your collar, too.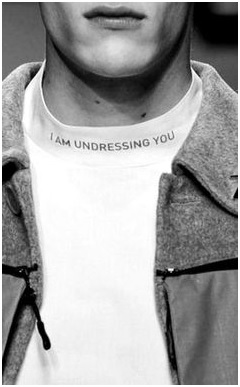 Like this T-shirt is enough to give anyone *goosebumps, and we're pretty sure you'd be pining to have it in your wardrobe. Before thinking about getting this one done by yourself, collaborate with the designer of the printing company to avoid faulty printing.
7. Disproportionate –
This may not be so popular, but this style definitely marks its own territory in T-shirt printing. But you will have to be very careful with the design, as its essence may get lost in the printing process.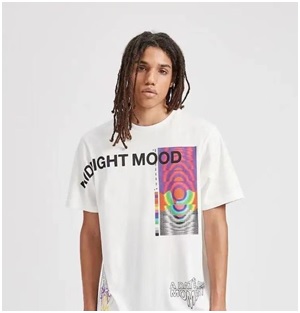 Just like this example, you can put a design or a photo and text together. If possible, get it designed beforehand and then go for printing. A good website for t shirt photo printing might be able to do this without a single problem.