Jewelry is an essential accessory that adds beauty to any outfit. However, buying jewelry can be expensive, and finding something that matches your style is not always easy. Fortunately, there are several DIY jewelry hacks that you can try at home to create unique and personalized pieces without breaking the bank.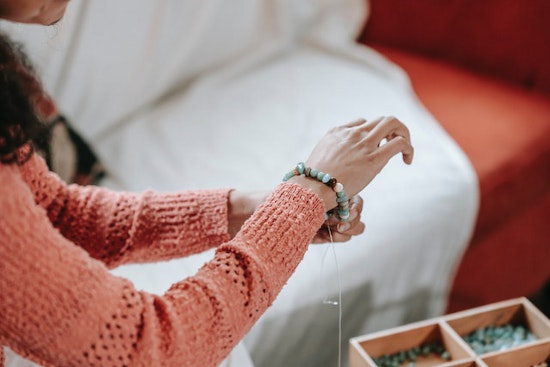 This article will share five DIY jewelry hacks you will love.
Five DIY Jewelry Hacks
Statement Earrings
Statement earrings are a bold and trendy accessory that can elevate any outfit. You can make statement earrings using tassels, beads, and other materials. You'll need some embroidery floss, earring hooks, and jump rings to make tassel earrings.
Cut the floss into equal lengths, fold them in half, and tie a knot at the top to create a loop. The tassels are attached to the earring pins using jump rings. Create one-of-a-kind, eye-catching earrings by playing with color and length.
Wire Rings
Wire rings are a simple and easy DIY jewelry hack you can make using just a few materials. You'll need some wire, pliers, and a ring mandrel to make wire rings. Start by wrapping the wire around the mandrel to create a circle. Cut off any extra wire and twist the ends together using the pliers. Unique rings may be made by experimenting with various wire thicknesses and forms.
Charm Bracelets
Charm bracelets are indeed a timeless classic that may be customized to showcase one's individuality and passions. You can make your charm bracelet using a chain, jump rings, and charms. Then, connect the jump rings tot the chain, and then use more jump rings to add the charms.
You can choose charms representing your favorite things, such as animals, sports, or hobbies. Charm bracelets make great gifts and are a fun way to express your personality.
Beaded Necklaces
Beaded necklaces are the perfect accessory for every occasion. You can make a beaded necklace using beads, strings, and a clasp. Start by threading the beads onto the string in your desired pattern, and then attach the clasp using crimp beads. Beads come in many shapes, colors, and sizes, so you may design a necklace that is uniquely you.
Ribbon Chokers
Ribbon chokers are a trendy and affordable DIY handmade jewelry hack you can make using ribbon and a clasp. To make a ribbon choker, measure your neck and add a few inches to the length. Cut the ribbon to size, then attach the clasp to each end using jump rings. You can experiment with different ribbon colors and widths to create a variety of chokers that can be worn alone or layered with other necklaces.
Benefits of DIY Jewelry Hacks
Affordability
One of the main benefits of DIY jewelry hacks is affordability. Buying jewelry can be expensive, especially if you want unique and personalized pieces. By making your jewelry, you can save money and create one-of-a-kind pieces that reflect your style.
Sustainability
DIY jewelry hacks can also be a sustainable option. You may lessen your influence on the environment and save money by reusing or repurposing resources you already have on hand. This is especially important if you're passionate about reducing your carbon footprint and making eco-friendly choices.
Drawbacks DIY Jewelry Hacks
Limited Expertise
Unless you are a trained jewelry maker, your DIY pieces may lack the finesse and expertise of professional pieces, resulting in a less polished or refined final product.
Limited Access
If you live in an area with limited access to jewelry-making supplies or tools, finding the materials you need for your DIY project may be challenging.
Lack of Versatility
Depending on your skill level and available resources, you may find that your DIY options are limited to a specific style or type of jewelry. This can limit your ability to experiment and create unique pieces.
Conclusion
DIY jewelry hacks are a fun and creative way to express your style without spending much money. From statement earrings to ribbon chokers, there are plenty of options. You can create unique and personalized jewelry that reflects your interests and personality with simple materials and creativity.
Also read: Here's How to Shop Jewelry By Occasion
So why not try these DIY jewelry hacks and see what you can come up with?