Moving into a new house is an exciting time. The process of purchasing your new home might have been stressful enough, to say the least, but now it is time to pack up your belongings and make your way into that house.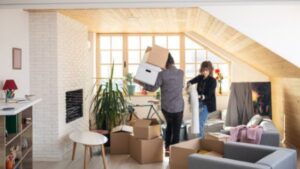 Unfortunately, the process of moving house isn't always as stress-free as you might hope. You can expect to be quite busy for a little while as you make your move and settle into your new home, but there are a number of things that can present an issue to you as you go through this process. One of the main things that can cause you stress in your move involves how much it costs to actually move.
In order to avoid any issues in this area, it is a good idea to draw up a moving budget for yourself as soon as you know your move-in date. This way, you can avoid surprises and feel less overwhelmed with everything as you settle into your new house.
With that in mind, here are some of the top things that you should include in your moving budget.
Movers
The first thing that you will need to account for in your moving budget is how much you are going to spend on movers. There are sure to be a number of moving companies in your area for you to consider so that you can find one that will be able to move your items for the right price.
Before you start making your calls or requesting quotes, take the time to make a rough inventory list of the things you will need to be moved. This will help you to give the movers you speak with the best idea of how much work they will be doing for you.
Packing Materials
Some moving companies will come with their own packing materials and will pack up your home for you as part of their package. However, most people prefer to pack up the majority of their belongings themselves. If you are going to be doing this, you should make sure that you budget for the cost of packing materials.
Bear in mind the fact that cardboard boxes can be more expensive than you might imagine. You might see if you can acquire some free boxes through other resources before paying top dollar for some at your local packing supply store.
Specialty Items
In addition to moving your standard items like furniture and household essentials, you might also need to include the transportation of specialty items in your moving budget. Things like pianos and other large instruments, fine art, and other valuable pieces can cost more to move. This is because of their awkward shape and greater value.
When you speak with your moving company, make sure that you are clear about the specialty items that you will need moved as well. That way, the cost of moving them can be accounted for in your initial quote for the day.