Having a roof over your head is a necessity. However, some homeowners fail to maintain their homes well, and different parts of the house, including the roof, incur some damage. In such an instance, you can carry out roof repairs or roof replacement.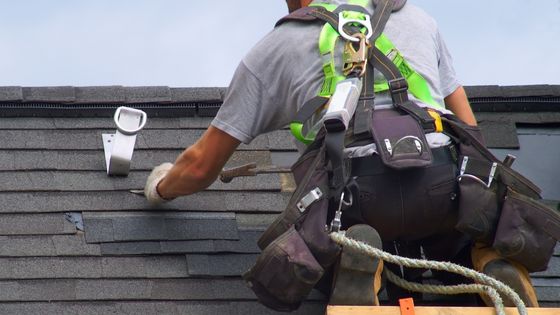 To avoid some of these problems, which could easily become safety issues, you need to monitor the roof for the following:
Damages or Cracked Shingles
Shingles usually protect the roof from the elements. If the shingles are damaged or cracked, you must ensure they're repaired promptly. Damaged shingles mean that their lifespan is almost coming to an end. The shingles also last for decades and not a lifetime, which means they need to be replaced at some point.
Visible Damage on the Roof
If you notice the roof has incurred some damages, the walls of your house may also be affected in the process. If such issues are not addressed on time, you may spend considerable money on roof repairs. The structure of your home may also be damaged entirely because the roof's integrity is in question.
For roof repairs, some of the tips you should consider as you hire a roofing company include:
1. Hire a Contractor That Specializes in Roof Repairs
Before hiring any professional, it is important to carry out enough research. In this case, the main focus is on roof repairs. Currently, many code-specific and regulated projects can only be handled by someone who understands the required details.
A professional usually carries out some research and has undergone classes, which means they're experts in their field of work. It enables them to address some potential issues while performing duties accordingly. A good roofing contractor also anticipates some challenges at work, and they're always ready to implement different solutions.
When asking different contractors for their bids, you must ensure that all of them use the exact specifications and plans. As you compare the estimates, they will be accurate, and you can pick the best bid based on your needs and assessment.
2. Look for Referrals
Referrals matter when it comes to hiring a contractor. When it comes to referrals, you need to get as many referrals as possible. For example, if you live in Texas and are considering hiring a Lakeway roofing company, make sure to check for any referrals they have. After compiling the list of referrals, you can contact each contractor and engage them in a phone interview. During the phone interview, ask different questions and then schedule a physical meeting such that you'll get to see their past projects. If the projects the contractor has handled in the past are good as per your expectations and standards, you can go ahead and hire them.
3. Ask for a Detailed Written Estimate
Before hiring a contractor, always get a written estimate. The estimate should be descriptive so that it will comprise all the roofing repair project's aspects, including the labor, price, and materials. If possible, the contractor should break down the cost of everything. By doing so, it will be easy to compare different estimates.
4. Ensure the Contract has a Payment Schedule
When you initiate a contract with a contractor, you must ensure the payment schedule is included to avoid any issues. One of the major issues people usually experience when they hire a contractor includes disputes involving payment. The issues revolve around the money the client has parted with against the work that has been carried out. Fortunately, a clear payment schedule can help eliminate such issues. It is advisable to ensure that payment is made based on the progress of the work.
5. Ensure the Contractor is Insured and Licensed
You should not hire contractors if they are not insured or licensed. Why is a license important? A license is important since it signifies that a contractor has undergone the necessary training and they can handle roof repair projects well. You can visit the licensing agency to verify that a contractor is licensed. Apart from that, you should also ensure the contractor is bonded.
Final Thoughts
We have listed some tips you should consider when hiring a contractor to handle roof repairs. There are additional factors that you should consider, including the experience of the contractor. Experience usually reflects the expertise of the contractor. If the contractor is experienced, you'll be confident they can handle the roof repairs well and you'll get value for your money.