Whether you own a private roofing contractor business, are looking for ways to update your current roof on your private property, or are looking to invest in a new property, you have definitely come to the right place.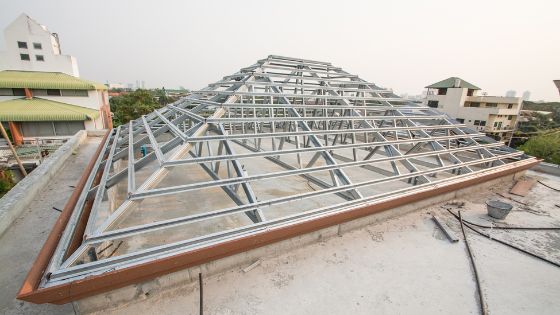 Here for your reading pleasure and information are the top five benefits of metal roofing for both private and commercial buildings.
1. Metal Roofs Are Fire & Impact Resistant
When a roof is covered with simple shingles composed of asphalt, during harsh winter weather conditions, it is more than common for individual shingles to either fly off the roof entirely or else become damaged.
Whereas asphalt can also experience growths of mold and mildew due to the prolonged build-up of moisture and also catch fire relatively easily, metal roofing is much more impact and fire-resistant and never falls foul to a build-up of moisture.
2. Metal Roofs Are Energy Efficient
For those homeowners who are conscious of the rising energy prices and are actively looking for ways to reduce these costs, they may well be interested to know that metal roofing is incredibly energy efficient.
A study released in 2019 in the United States found that metal roofs provide an approximate fifteen percent reduction in the energy costs of homes in the winter months and around a forty percent reduction in the energy costs of homes during the summer.
3. Metal Roofs Boost Your Overall Value
If you are considering either selling or leasing your private home or commercial business property, then the upfront cost of upgrading your roofing materials with a professional and established metal roofing company to metal will also mean you will be able to increase the proposed cost of your property when it comes to placing it on the property market.
Generally, the addition of metal roofing tends to increase the value of a private home or commercial property from anywhere between one and six percent of the total value.
4. Metal Roofs Are Relatively Easy to Install
Obviously, each state tends to have different rules when it comes to the installation of metal roofs, and dependent on your local state building codes, it may well be possible to have the metal roofing installed directly over the asphalt shingles that currently cover the property's roof.
If you are able to do it this way, it means that you will save substantial amounts of money during the installation process and will cut down on the cost of both the time spent installing and also the overall cost of labor.
5. Metal Roofs Are Eco-Friendly
In addition to the above benefits of choosing metal roofing over asphalt shingles, the environmentally-conscious home and commercial property owners out there will be more than pleased to learn that metal roofs are entirely recyclable.
This means that not only will your property be entirely more secure, weather-proof, and both fire and impact-resistant, but you will also be doing your proverbial bit for the environment.