Everyone falls prey to hair loss, particularly in these brutal environmental conditions. It is one of the leading hair crises in the world. Your locks are an instantaneous articulation of an individual's personality and grace; like a good hair day makes you feel like conquering the world. Unreasonable hair loss will be a challenging concern. However, if it is due to a disease then get them diagnosed correctly, otherwise, hope on the wagon of mostly home hair fall remedies that are indeed natural and practical in keeping your beautiful locks.
Hair fall remedies to keep in mind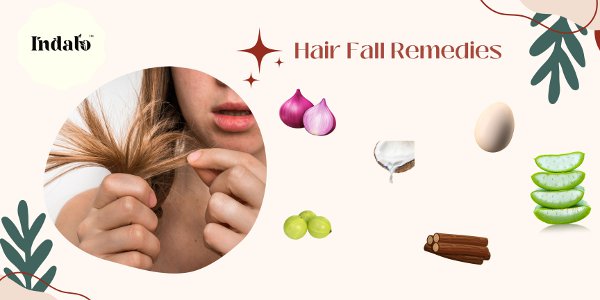 • Onion Juice is incredible for hair fall
The antibacterial properties of onions help to combat numerous scalp infections while enhancing the blood circulation to the hair follicles. It promotes hair growth and controls the loss of hair, which is a known fact. Many herbal and clean brands promote their cold-pressed onion oils, you can absolutely buy them.
If you want to DIY onion juice then let us move. Grind some onion and squeeze out the juice and that's it. You may apply the juice directly to your scalp only for half an hour. It will have a pungent smell, rinse it off with shampoo. Another way is, add this juice to any carrier oil and then apply it to your scalp. Follow this procedure once every week and see the difference.
• Weekly eggs in the hair mask
If you are already unaware of how incredible eggs are, then keep on reading. They are super rich in sulphur, phosphorous, selenium, iodine, zinc, and proteins, which assist in boosting hair growth. Take an egg and yogurt, mix it really well and apply it everywhere from root to tips.
After 20 minutes, rinse with herbal and natural shampoo. Voila! You have the silkiest and shiniest hair in your group.
• Amla elevates hair development
The Indian Gooseberry or Amla is an adequate home treatment to control hair fall. Consuming amla will strengthen the hair follicles and promote growth. Due to its anti-inflammatory properties, amla help promote faster growth of hair, uphold a healthy scalp, and prevents premature greying. You can mix amla juice or the amla powder with yogurt to create a paste. Mask up your hair and scalp. Use a cap to not let the paste dry out. Keep it for an hour, then rinse it off with normal water.
• Licorice for hair fall
Licorice is a very well-known remedy for hair loss and any unusual damages to the locks. Even many brands incorporate this elixir in their hair care products. It facilitates soothing the scalp and annihilates any dry flakes that are also known as dandruff. Either you make a nutritious hair mask twice a week or invest in good licorice hair care or include it in your diet.
• Aloe Vera for curing hair fall
Aloe Vera is a very prominent remedy for hair loss. It's also effective in reducing problems of the scalp like itching and flaking that is just dandruff problems. Take the stalk of aloe according to your hair length and extract the pulp. Apply it to your hair and scalp and leave it for about 45 minutes. Rinse and try this per week for better results.
• A simple and organic DIY coconut milk
The protein and essential fats present in it promote hair growth and hinder hair loss. Prepare the organic coconut milk by grating coconut and then simmering it in a pan for a few minutes. Strain it carefully into a spray bottle, you may also add some essential oils. Then spray it heavily to the scalp and hair for 45 minutes. Rinse with natural shampoo and see the magic.
Oh, are you considering the whereabouts of a natural shampoo? Then trouble not, Indalo has the perfect Natural Banana Shampoo in their Natural Hair Care Products range is a mighty herbal and natural shampoo for dry and frizzy hair types. The mix of banana, hibiscus, vitamin E, and shea butter is sort of a heaven for dry hair types because all the components imply providing moisture to the dull strands. For full benefits, it is essential to follow Natural Banana Shampoo up with Banana Hibiscus Conditioner, which further helps to retain the nourishment and lock within the moisture.
It gives strengthens the roots of the hair, which makes the follicles stronger, and the vitality of the hair increases.
Therefore it prevents hair fall and you get to have a voluminous mane of beautiful shiny hair.
It operates like a charm for dry hair while feeding the scalp by not robbing the scalp's natural oils.
It also helps to prevent dandruff.
The celebrity components: Banana and Hibiscus guarantee your hair gets the nourishment from the natural goodness of mother nature.
Let us adieu to hair fall forever with these fantastic hair fall remedies, Natural Hair Care Products, and DIYs.