If you want to make a digital space for your retail store or you want to start an online business from scratch but are not sure about how much it will cost to develop an eCommerce website then you have arrived at the right place.
You are one of many, anytime, people want to buy or build something, the first thing that comes to mind is its cost. And if your entire business is going to depend on it, then it's going to be the center of attention.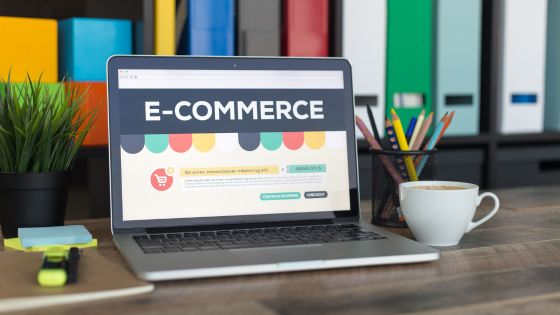 Normally, the development cost depends on your requirements and your budget too, because no matter how feature-rich you want your website to be, you just can't spend more money than you can afford to. Many more factors affect the cost of a website development project.
Also, it is up to you who you hire to do your work for you. That's one of the most critical aspects because the US development cost is much higher than hiring expert Magento developers in India. Of course, it's a geographical factor, but it affects the development cost.
Now, here in this article, we are going to discuss the factors affecting the development of eCommerce websites.
Factors affecting the eCommerce website development cost
Website domain and hosting
The domain name is the address at which your ecommerce website will be accessed. This can be a personal domain, like mywebsite.com, or a commercial one, like shop.mywebsite.com or ecommerce.mywebsite.com.
If you choose to use a personal domain name, you will need to register it with a registrar (such as GoDaddy or 1and1) and purchase a web hosting plan through an Internet service provider (ISP). These plans often include email accounts and other services such as SSL certificates for encrypting data transfer between browsers and servers on your site and for ensuring that sensitive financial information sent over the Internet isn't compromised by hackers or other malicious actors on the network.
The price of web hosting varies widely depending on what features are included in the plan, so it's important to compare prices from different providers before choosing one with which you're comfortable working. For example, if you want an SSL certificate for your site with 256-bit encryption which should be sufficient for most ecommerce transactions then expect to pay around $150 per year for each domain name registered under that certificate (e.g., two domains: mywebsite.com
Design & Theme
The design and theme cost is the most critical aspect that you need to consider when you are looking to buy ecommerce web development services. The theme cost involves the development of the site's design and contents while the design cost is the creation of the site's layout. Both will affect your business growth, and if you plan to sell high-end products, then this is an area where you can spend more money than usual.
Designing a website can be done in different ways depending on your budget and objective. For instance, you could hire a professional designer or use a template from ecommerce store builders like Shopify, Amazon, etc. If you are looking for a customized design, then it may cost more than a simple template but if you want something that looks good enough for your brand name or product images then this may not be an issue for you as most designers charge around $100 per hour for their work.
Functionality & Plugins or Extensions
The functionality of a website is the key to its performance. It is the reason why people come back to your website. It is not just about the design and layout of your ecommerce website, but also about the functionalities you offer on your site. If you do not have the right features and functionalities then there can be no doubt that your visitors will leave your site. The time taken for visitors to leave your site depends on how well-equipped your ecommerce website is with useful features.
For example, if you have a shopping cart feature in place, it should be able to accept multiple payment methods like credit cards, debit cards, PayPal, etc. If you do not have this feature then you need to either add it or look for another vendor who can provide this service at a lower cost than yours.
Maintenance
The maintenance cost of an ecommerce website is the single largest factor that determines if the business will enjoy success. A poorly designed and maintained ecommerce site can be a liability for any business.
It is possible to create an effective eCommerce website for less than $500, but it takes a great deal of time and effort to get there. Even after getting there, it's harder to stay there. Because if you don't keep maintaining and updating your eCommerce website according to the latest trends and consumer preferences then your competitors may use it to their advantage and sway your customers to their side. This means that you need to find a way to keep your costs down as much as possible to spend more time on other parts of your business and still make money from the ecommerce operation.
The most common way to reduce maintenance costs is by outsourcing some or all of the work involved in maintaining an ecommerce site so that someone else handles all of the technical aspects of running one while you focus on strategy and marketing. You can also cut down on expenses by using hosting services such as Amazon Web Services (AWS) or Microsoft Azure instead of buying dedicated servers directly from hardware manufacturers like Dell or Hewlett-Packard Enterprise (HPE).
Website Content
Website content cost is another factor that affects ecommerce web development costs. Content plays a crucial role in the success of an eCommerce store. If it is relevant, engaging, useful, and resembles the brand image of your product line or the company then it will be beneficial for you otherwise it's just going to bore the customers which will make them leave the site and never come back.
If you have a lot of information on your ecommerce website, you may spend more money on it. For example, if you have a product page with many images and videos, it will cost you more money to update them. In addition, if the information on those pages is outdated or incorrect, it will also increase the number of hours you need to spend on fixing it up.
Total costs of an eCommerce website
The total costs of an eCommerce website can vary widely depending on the size, scope, and complexity of your project. The average development cost ranges somewhere from $5,000 to $20,000 depending on your business requirements. If we divide the costs in the terms of factors we discussed in this article, it might look like this:
Domain name registration charges: $15-$200 per year
Web hosting fees: $0-$20/month (or less)
CMS (content management system) fees: $0-$50/month (or less)
Search engine optimization (SEO): $100-$1000 per month
Conclusion
More and more people nowadays are turning to online shopping and the ones who are already doing it prefer to get an enhanced user experience. That makes it necessary for online business store owners to build a cutting-edge eCommerce store that could not only stand out from the competition but also reach a larger audience globally.
Tons of platforms and tools are available in the market to create an eCommerce site but there is no such thing like one size fits all type of solution. You just have to realize who your target audience is, what they want and what are your business requirements.
Also, it is tempting to put on large lines of products on your website but if your customers can't find them easily then there is no use putting them there in the first place.
In short, your eCommerce website must be ranking well in the search engines, should have an elegant design, be easy to navigate, and can drive more sales.