Beach weddings may sound like a cliché, but they are actually as fun and mesmerizing as shown in the movies. If you want to throw a memorable wedding party, the beach is exactly the place to be. If nobody among your friends and family has done it before, your beach wedding is bound to make a splash (pun intended). Many destination weddings are planned in tropical or coastal areas because they are divine. The break from the busy city life and hectic routine is exactly what you need to achieve the 'happy couple' status. The natural landscapes of beaches have a positive effect on people, i.e. their mood is uplifted and they loosen up.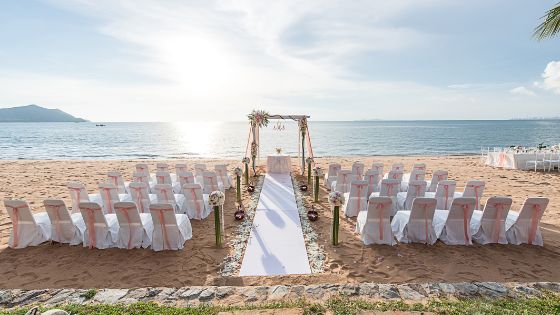 If you need more convincing, here's why a beach wedding is going to be the best decision of your life:
1. The Blue Waters
No wedding is complete without something blue and borrowed. Blue is a calming color, which symbolizes serenity, stability, inspiration, freedom, reliability, and wisdom among other things. All these things are important to make a marriage work, so conducting your ceremony by the blue sea should be perceived as a good omen. The wedding day is special, but it is also a highly stressful event for the couple because it is a life changing in many ways. The sound of waves and the cool sea breeze helps alleviate the pressure, allowing the couple to live in the moment.
2. The Open Sky
If you always dreamt of an outdoor wedding, nothing beats a beach setting. The open sky and stirring waters are so much better than some typical cramped hall or unkempt garden. Enclosed spaces can become suffocating when you are already nervous and the guest list is overwhelming. When you're getting married on the beach in the open, you don't have to worry about power or space shortages.
3. Easy Arrangements
Contrary to popular belief, beach weddings are usually inexpensive. Most beach wedding packages are all-inclusive, which means that all you need to do is show up in your not-so-formal attire. You can book your venue in advance and select arrangements according to your taste and budget. You could also rent a private beach for cheap and DIY other arrangements.
4. Fancy, but not too Fancy
Beach weddings are a minimalist's dream because they require minimum decorations. The simplest of preparations look swanky due to the gorgeous background. Destination wedding on a beach shouts fancy, without being gaudy or flashy in the least.
5. Picturesque Location
The greatest perk of getting married on the beach is that you get to capture a load of amazing photos. The natural landscape is breathtaking and it tends to make every moment so much more candid and heartfelt. The natural lighting is superb during daytime and nothing compares to having the sunset as a backdrop.
6. Excuse for Casual Attire
If you and your fiancé are not thrilled about formal gowns or suits, hosting a beach wedding is the ultimate excuse to get married in somewhat casual attire. This does not mean that you show up in your swim suits, but you can definitely wear something laidback. An effortless hairdo and some light makeup will complete your classic beach bride look.
7. No Heels or Stuffy Boots
Heels and stuffy boots are not part of the beach dress code, thus you have one less problem by the end of the ceremony, i.e. you won't have sore or blistered feet. You can dance around in slippers or flip-flops, and even go barefoot in the sand. People say that marriage is a trap, but a beach wedding shall be a liberating experience for you.
8. Maximum Comfort
The informal attire, unpretentious décor, mild/pleasant weather, and dance floor made of sand is the definition of a relaxing environment. You're not spending tons of money on the venue, clothes, or overall arrangements, so you won't be booking an appointment with a bankruptcy lawyer soon after the honeymoon phase.
9. Direct Honeymoon
Opting for a beach destination wedding is like experiencing your honeymoon period before, through and right after the wedding ceremony. You don't have to spend the next day on a plane and waste another day to overcome jetlag. You're in a heavenly place to start with and you can make the best of it without delay.
10. Automatic Vacation
While you accomplish direct transition to honeymoon land, your guests get to enjoy an automatic vacation. It lets them escape from their humdrum lives and restore sanity while they celebrate your union. A relaxed beach wedding allows the couple to focus on things that matter (like love and nature). The conclusion is that you'll do everyone a favor by holding your marriage ceremony by the sea.