As per Gartner reports, the Business Intelligence market revenue worldwide will reach $29.48 billion by 2022.
If we consider the market growth, then Business Intelligence will seem like a fast-emerging industry.
On the other hand, the global DevOps market will generate a fascinating $30 billion in revenue by 2028. (PR Newswire)
As a matter of fact, both the BI and DevOps markets are booming.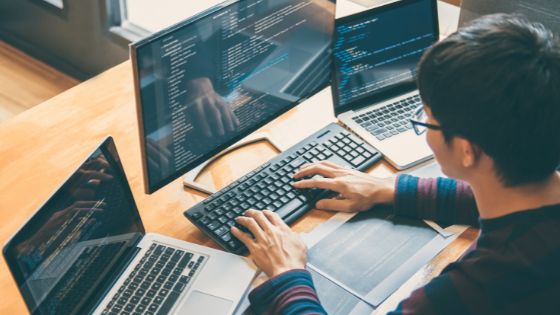 In the software development space, DevOps is no doubt one of the leading innovations.
However, Business Intelligence is also in no less demand.
How about if companies let BI and DevOps play well with each other?
In fact, many companies are now planning to hire DevOps engineers USA to improve their BI strategies.
Due to digital transformation, every software and device shows off a digital trail. Only DevOps can pilot data-driven BI strategies to help companies stay relevant amid digital disruption.
But, how can DevOps influence and benefit BI strategies?
Let's unlock.
Fundamentals And Challenges of BI
Unless we learn about the fundamentals of Business Intelligence,
It may not be possible to link BI and DevOps
We can not learn how to ooze the DevOps benefits to BI.
Business Intelligence And Its Values
Organizations who implement BI in their business operations experience almost a whopping 127% ROI within three years. (Tableau)
In the present business scenario, business data processing is crucial for businesses.
Enterprises are now implementing technological advances like Artificial Intelligence, Immersive technologies, and Machine Learning in the various layers of business operations.
As a result, the data generation is growing like a mammoth.
BI brings agility to data process and architecture, transforming raw business data into meaningful information. The decision-makers of organizations can make futuristic decisions based on BI-driven information.
Despite the agility, BI professionals face specific challenges:
Sometimes one overwrites the changes of another BI team member.
Many times, employees fail to update the data set or code changes.
Error in the data processing.
Once a release takes the wrong route, the BI professionals need to return to the previous codebase.
BI professionals find it challenging to separate the development process from testing.
DevOps is a remarkable technology that gels with Big Data and Business Intelligence, relieving companies from the above BI pain points.
How DevOps Benefits Companies Taking BI Strategies
The fact is that Business Intelligence deals with business data analysis. It depends on the quality of the business output of companies.
The collaborative approach of DevOps enables companies to improve their production quality and business output.
Business organizations can try out DevOps through the following ways to improve their BI ROI:
DevOps Enhancing Data Quality
Companies experience an almost 20% drop in revenue because of low-quality data. (Kissmetrics)
If companies use new and relevant data, the outcome will always remain fruitful. As a matter of fact, when data is coming from various streams like business partners, and supply chains, quality data generation is a matter of question.
Compared to the traditional BI practices, the DevOps approach helps businesses automate their data process.
Instead of batch after batch, automated data processing seems more practical for producing quality information.
Moreover, BI professionals can detect bugs easily during data processing with DevOps. They get the desired time to work on the issues before the product release.
To sum up, when DevOps links with BI, it improves situational awareness during the data processing pipeline.
Effective Data Warehouse Management
The data warehouse is a centralized location that collects data from various sources and keeps them under the same roof.
Since many stakeholders are there, handling a robust data warehouse is challenging for companies.
Employees waste 50% of their time accomplishing the regular mundane data quality tasks. (MIT Sloan)
The Implementation of DevOps in BI enables data engineering and data administration teams to collaborate.
Consequently, the two departments can develop a robust automation pipeline of data source analysis, collection, testing, storage, and deployment.
To conclude, data warehouse management becomes a cakewalk.
Better Team Communication
Firstly, it is a universal DevOps Thing.
Team collaboration encourages transparent team communication.
DevOps-integrated BI system ensures detailed documentation on the data process pipeline.
As a result, it facilitates inter-department communication far more effectively. BI professionals can collaborate and communicate with each other at the same time.
Inter-team communication levels up employee productivity by 25%. (Pumble)
Additionally, improved team communication enables companies to process customer feedback faster and escalate their customer satisfaction resulting hike in revenue.
Final Words
To conclude, DevOps for Business Intelligence is not a piece of the pie. However, it brings a new range of opportunities to explore the unexplored.
Firstly, companies need to hire DevOps engineers USA to learn the fundamentals of DevOps functions and how they can benefit their Business Intelligence strategies.
Additionally, remember one thing: unless you initiate the mingling of DevOps and BI, the journey will always seem far and far away.