Engaging video content is part of the best business marketing strategies that convert audiences into organic customers. However, video content becomes truly impactful when it is created at a professional level. It is essential to recognize the significance of having a video production house.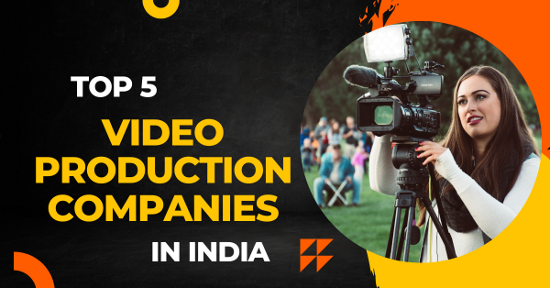 The value of a video production company in creating high-quality video content cannot be overstated, as organizations consider video content to drive business growth.
What is the need for these agencies, though, since videos can be simply generated using the most recent mobile device versions?
The significance of a video production agency became evident to marketers when they encountered numerous challenges in creating compelling video content.
HubSpot's video marketing survey finds some challenges 500+ video marketers face during video production. About 39% of marketers faced a lack of time for effective video creation, 33% faced difficulties with effective video strategy, 31% inadequate budget, 29% indicated video creation process i.e. filming, editing, and producing, while 29% got challenges, like lack of content ideas.
A video production house seemed to be the best solution for all these. However, the growing number of agencies might put you in a dilemma.
Simplifying your choice, we discover the top 5 video agencies in India committed to your success.
Let's discuss one by one:
Discover The Best 5 Video Production Agencies in India
These are the most reputable and talented companies in the industry, known for their exceptional work and client satisfaction.
Vidzy- Discover Social Media Influencers' Dominion
The titans of influence on social media have emerged. Within their dense online networks, they influence perceptions, grab attention, and ignite conversations. Vidzy is a well-known video production company specializing in creating influencer-based video content. They understand the value of partnering with digital creators. Therefore for more than 6 years, the agency unboxes a world of opportunities for brands by choosing influencers according to their niche. Find Vidzy's best video production services in:
Influencer Featured Social Media Videos: The video company produces social media videos to connect brands to target audiences, make them engaging and drive meaningful results. Influencer Based social media videos can increase brands sales and brand recognation with the help of niche based influencer. So that brands can get high sales and engagement within short of time period. These videos brands can use in their official social media handles like Instagram, YouTube, Facebook, twitter and LinkedIn.
Testimonial Videos: Vidzy maintains testimonial videos to establish trust, credibility, and brand loyalty. It presents positive experiences and satisfaction of real customers or clients with a product or service.
Influencer Based Product Videos: The agency's other video production services include product video creation. The talented team works closely to understand brand's products and services, whose benefits and values are shown in product videos.
Video Ads: Vidzy is an expert in developing video production and advertising. Therefore they deliver video ads. The prime purpose is to help businesses reach the target audience and achieve their marketing goals.
Corporate Videos: The video production house is a hub of Influencers, enriched by more than 2 lakh digital creators. Vidzy collaborates with content creators to produce outstanding corporate videos featuring the organization's culture, introduction, product descriptions, call-to-actions, etc. These videos brand's can use in their official website.
Grynsta: Industry-Tailored Video Solutions
Another video production company Grynsta creates videos after learning your wants and specifications. They specialize in generating exclusive video content that matches the latest developments and changes in various industries.
Grynsta creates visually striking marketing videos that leave a lasting impression on viewers by fusing the most recent industry trends with its own creative skill set. Customization emphasizes securing uniqueness for each brand's needs through tailored clips.
IGYgrow- Maximum Returns
Discover IGYgrow when you require professional video production services from a reliable company. They understand the uniqueness, specific needs, and objectives of your business. Therefore, understanding your requirements well, prepare a video production strategy. The company commits to delivering projects on time and within budget and guarantees maximum ROI.
YTube SEO – Full-Service Video Production Company
With its comprehensive video creation capabilities, YTube SEO orders all branding requirements. When enduring every part of video production, professionalism is at the center of their strategy from conception to actualization.
As a well-known video content provider, they are renowned for their incomparable segmentation strategy. They focus on producing videos that are specially customized for different audience categories in order to maximize interaction. Its high-quality videos support branding objectives through various video production services.
IGPackages – Trend-centric Video Production
IGPackages focuses on the latest trends to create engaging videos. The highly skilled professional group examines the ever-evolving digital media. Whatever your need be it product videos, promotional content, or brand storytelling, one-stop video production company IGPackages is the solution.
Major Aspects To Consider In A Video Production Agency:
Here are the top 5 recommended video production agencies in India, known for their expertise in crafting impactful brand videos. However, the best production house has several key aspects. So consider while choosing:
Trend-Focused Strategy: In the dynamic world of video production, a video production agency must stay ahead of trends. They embrace a Trend-Focused Strategy and examine the ever-changing domain, creating impactful and engaging videos.
Create Creative Scriptwriting: A video production company should prioritize Creative Scriptwriting. A well-crafted script is the backbone of a powerful visual narrative that grabs attention and delivers an influential message.
Cutting-Edge Technology Mastery: The video production house must utilize the latest tools and equipment, which is essential for delivering high-quality videos. All processes from pre-production to post-production should take place in a professional studio with modern technology tools.
Personal Branding: An Agency should focus on personal branding. They work according to the client's needs by understanding the brand goals, values, and target audience.
Conclusion
Video is a dynamic and delightful medium to seize the audience's concentration and deliver impactful messages. However, creating high-quality video content requires expertise, creativity, and a technical approach. It can not be imagined by a video production company.
India has many famous video production agencies. Their best video production services will leave you stunned. But among them, 5 selected agencies create convincing and professional video content for brands. These agencies are research-driven high ROI creative storytelling, cutting-edge tools, and affordable pricing.
Vidzy holds the prestigious position of being the first mentioned in the list due to its exceptional reputation and trustworthiness.
Take the time to research and choose wisely!