The optimization process in search engines for your online presence was straightforward even as recently as a few short years ago; you would choose the keywords that you thought would bring the most business and concentrate on them in everything you put online.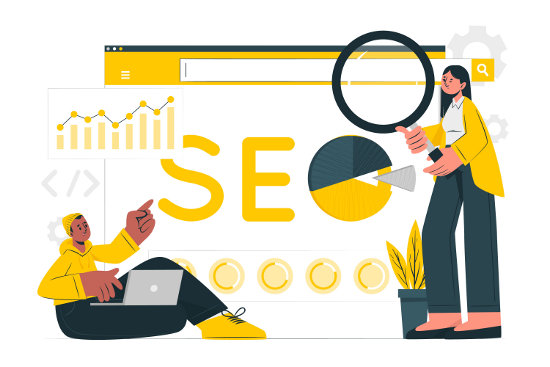 These days, search engines like Google care less about how often a term appears and more about whether or not your material is well organized around a central theme or idea and whether or not it provides valuable, in-depth information to readers. You may do this with online and offline search engine optimization strategies. Still, you need to be familiar with their similarities, differences, and optimization potential to get the most out of them.
What's The Difference Between On-Page And Off-Page SEO?
Almost everyone nowadays relies on the first page of Google search results to locate what they are looking for online. It is considerably simpler to bring in new clients if your website appears high on search engine results pages (SERPs). One of the best things you can do for your company is to improve your SEO.
On-page SEO and off-SEO are the two primary pillars of an effective search engine optimization strategy. In search engine optimization, "on-page" refers to the parts of a page that you can change. When discussing search engine optimization (SEO), "off-page" refers to the elements and methods that are not directly related to your website.
Off-page SEO focuses on increasing traffic to your site and establishing your content as an industry expert. In contrast, on-page SEO focuses on making your site more user-friendly and friendly to search engines.
Elements of On-Page SEO
Performing optimizations directly on individual pages of your website are known as on-page SEO. On-page SEO encompasses most of the "basic" aspects of SEO, such as keywords, Hypertext markup language, page names, and mobile friendliness.
Having your website's information easily accessible for search engine crawlers, indexing, and comprehension is the focus of this SEO subfield. Still, there is a lot more to it.
Optimizations made to individual web pages are considered part of on-page SEO. Making your site "delightful" for people to visit is a crucial aspect of on-page SEO since search engines like Google want to promote the finest websites for searchers.
Off-Page SEO Factors
When you advertise your material on other websites across the Internet, you engage in off-page SEO. As a subset of search engine optimization, this technique aims to increase mentions of your site, business, or brand on external resources.
You hear off-page SEO when people talk about getting links to their sites. Although we'll spend some time discussing the backlinks below, it's vital to note that there's much more to off-page SEO than this.
Search Engine Optimization Techniques: Online and Offline
Optimization for search engines (SEO) is a process, not a solution. This process is not a one-time event but requires persistence and a wide variety of strategies. Website architecture, programming, content, linkages, and even off-site influencers are included.
Strategic and all-encompassing methods are ideal for search engine optimization. It is a vital aspect of any digital marketing campaign and should be strategically approached as a continuous process with apparent ties to your company's objectives and return on investment.
Currently, The Following Are The Most Effective SEO Strategies:
Methods For Increasing Your Website's Visibility On The Web
Always put out new, high-quality material to prove to search engines that your site is current and worthwhile.
You can assist search engines in better comprehending the subject and theme of your content by consistently using keywords and word embedding indexing (related/topical) keywords throughout the material.
Use Relevant Keywords In Your URL Structure
Create meta descriptions that stand out and encourage clicks; a higher CTR is good for SEO.
Create your website such that each page has a unique H1 tag with the page's primary keyword.
Use relevant keywords in picture alt tags and file names so search engines can "see" your photos.
Use keywords in the anchor text of your links when referring to other pages on your site.
Make sure search engines can read your mobile-optimized pages by adding some code.
Conventional Search Engine Optimization Methods
Make sure your content is up to par and worthy of backlinks. Get links from other reputable sites to improve your site's ranking in search engines.
Write Articles And Submit Them To Online Databases
Engage in conversation with influential people and request that they promote your website and link to it. You could share their material on your social media to show your appreciation.
Which is More Crucial, On-Page or Off-Page SEO?
Choosing between on-page and off-page SEO is not like deciding between a roof and a foundation. On-page or off-SEO may help boost your website's visibility in search engines.
Although off-site SEO is essential, SEO experts recommend fixing up your website's on-site optimization first. You lay the groundwork before constructing the remainder of the home, just like you would when building anything else. On-page SEO is like a foundation in that it may need periodic upkeep. By striking a happy medium between the two, you may make your site "bilingual," accessible to human visitors and the crawling software used by search engines to determine page rankings.
Building Bridges
Quality matters most to a website's search engine rating, not the number of links. Your site's links should originate from reputable sources. Adding quality external links may also boost a website's page rank.
Posting on message boards, paying for advertisements, creating articles, answering queries, submitting ads, etc., all fall under offline SEO. Two main ways to boost your website's search engine rankings are online and offline optimization. Increase traffic and your position in search engine result pages (SERPs) using keywords and social media.
Conclusion
Offline search engine optimization relies heavily on keywords, key phrases, and awareness of pertinent trends. The information is distributed via many online channels, including social media, weblogs, portals, and others. Here is where back links to your site are forged.
However, the material should be optimized for search engines and provide readers with helpful information. A group of experts with thorough SEO Wollongong knowledge handles all optimization aspects online and off. They ensure that offline and online SEO strategies are practical by using online search engines, keyword research, content management, and other means.