As our face faces aging, one of the critical concerns is the forehead area. Several patients don't realize how the fine lines of the forehead & their treatment can affect the whole face. Concerning the time, not only our forehead develops more lines & lose volume, but the eyebrows themselves start sagging and become furrowed. These wrinkles on our foreheads can show a scowling or angry appearance. Non-surgical treatments like Botox & lasers can correct these aging effects.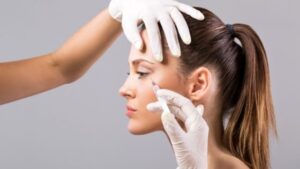 How does the Botox procedure work?
Botox is comparatively a simple & effective way of brow lifting than surgical treatment. Through Botox brow lift, forehead lines can be removed, lift the sagging eyebrows & minimizes the hooding of the upper eyelid. A tiny amount of Botox is required to be injected above the lateral part of the eyebrows to raise the droopy brows, which eventually provide a lift to the eyebrows. By proficiently injecting a small amount of "Botox" into crucial glabella & forehead areas, the forehead will get raised & you will get a desired rejuvenating look.
Non-surgical procedures for brow lifts are more demanding than surgical brow lifts, as surgery can bring an unnatural "surprised" look to your face. Apart from this, there are severe complications in surgical brow lift botox, such as loss of hair from the incisions, scars, & headaches.
There are several ways to inject Botox into the forehead. It depends on the patient's anatomy. If there are very less-droopy brows, the procerus muscles on the forehead need to be injected (the muscle present between the eyebrows) & a required amount of Botox around the orbicular oculi muscles ( muscles present around the eyes) to pull down the tail of the eyebrow. In addition, sometimes, the forehead's upper portion needs an injection, it is to relax the muscles of the forehead & this helps to pull up the brows more.
After-effects of the Botox eyebrow lift?
Normal swelling & bruising can happen after the botox treatment same as a cosmetic surgery patient bears after injections. Some precautions can be like patients can't lay flat and bend for three to four hours after Botox brow lift treatments. Apart from these, no exercise for at least 24 hours. For the best & most natural Botox eyebrow lift results, it is crucial to consult an expert in the Botox field.
For how long do Botox eyebrow lift results remain?
The effects of Botox eyebrow lift can be seen within 3-5 days right after the injections. At the same time, the prominent effects of Botox are noticeable after 14days. The results of Botox injections in the body can last 3-4 months, depending on the Botox patient.
Conclusion:
If you got bored of looking at your forehead's fine lines & want that your face shows the actual, gorgeous you with less droopy eyes, then Botox eyebrow lift treatment may be the right choice for you. With relaxed muscles & smoother skin, you will feel younger with lots of confidence.