Hosting a large family celebration can be daunting, but it doesn't have to be! If you're looking for tips on how to make your event run smoothly, you've come to the right place. This blog post will discuss everything you need to host a successful family celebration.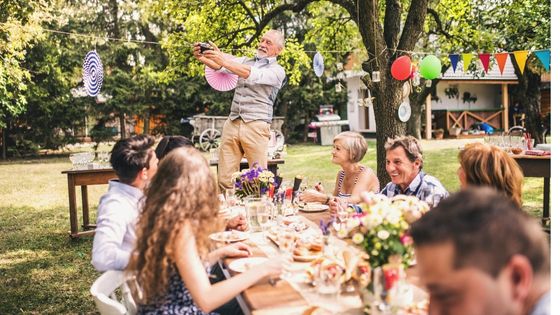 1. Choose The Right Location
The first step in planning any event is to choose the right location. When selecting a venue for your family celebration, you must consider the size of your guest list and the type of event you're hosting.
If you're expecting a large crowd, choosing a space that can accommodate everyone comfortably is essential. Additionally, if you're hosting a formal event, you'll want to ensure the venue has enough space for everyone to move around and mingle.
On the other hand, if you're planning a more casual get-together, you may want to choose a smaller space so that everyone feels more connected. Regardless of the size or type of event you're hosting, be sure to book your venue well in advance to avoid any last-minute stress.
2. Have A Photo Booth
No matter what event you're hosting, one of the best ways to ensure your guests have a good time is to look for a mirror photo booth for sale or rent one. Photo booths are great for all occasions, from birthday parties to weddings. They provide a fun and unique way for guests to take photos and create memories that will last a lifetime.
They're perfect for large gatherings because they can accommodate many people at once. So, if you want to make your family celebration extra special, have a photo booth!
3. Have Plenty Of Food And Drinks
Of course, no family gathering would be complete without good food. You have a few options when it comes to feeding a large crowd. You can cook the food yourself, hire a caterer, or potluck it. If you're doing the cooking yourself, be sure to start preparing early and make enough food to feed everyone.
It's also important to consider any dietary restrictions your guests may have. If you're hiring a caterer, ask for a menu in advance so you can see what they'll be serving. And if you're having a potluck, assign dishes in advance and ensure everyone knows what they're bringing.
Additionally, be sure to have a variety of non-alcoholic beverages available for guests who don't drink alcohol. And, if you're serving alcohol at your event, be sure to have plenty of water available so guests can stay hydrated.
4. Games And Activities
Another great way to keep your guests entertained is to plan some games and activities. For example, if you're hosting a family reunion, you might want to have a scavenger hunt or a talent show.
And if you're hosting a birthday party, you could have balloon animals or face painting for the kids. There are endless possibilities when it comes to games and activities, so be sure to choose something that will be fun for everyone involved.
5. Provide Entertainment
In addition to renting a photo booth, there are several other ways to keep your guests entertained at your family celebration. If you're hosting a formal event, you may want to hire a band or DJ to provide music throughout the evening.
Or, if you're hosting a more casual get-together, you may want to set up some lawn games or have a movie night. Regardless of the event you're hosting, be sure to provide some form of entertainment so your guests can have fun and make lasting memories.
6. Send Out Invitations
Once you've chosen the perfect location and made all the necessary arrangements, it's time to send out invitations. When sending out invitations for your family celebration, including all the important details, such as the event's date, time, and location.
Additionally, be sure to include a list of activities that will take place so your guests can plan accordingly. And most importantly, be sure to include an RSVP card so that you can get an accurate headcount for the event.
Closing Thought
Hosting a family celebration can be a lot of work, but it's also a lot of fun. By following these tips, you can make sure your event is one that your guests will remember for years to come. So, what are you waiting for? Start planning your event today!