As much as the shape, cushion, and size of the sofa matter, if you want customized sofas the fabric of the sofa matters too. Here we will talk about the best sofa fabrics which will make sure that your all needs and comfort as much as practically possible can meet.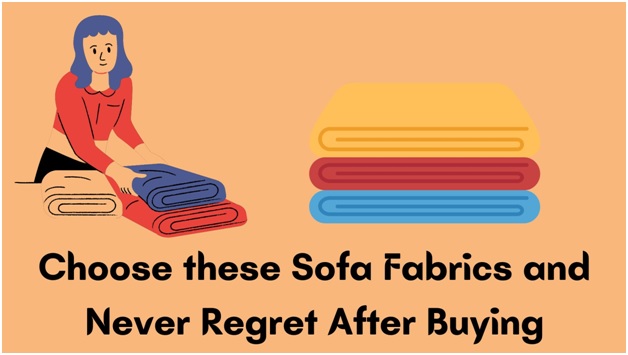 Durability and stain resistance are the two most important things in a sofa fabric. As sofas are the most used furniture in our home. Where we entertain our guests and spend our leisure time. It is important for us to know our needs and our family habits, and if we have a designer they must know our family behavior. So that they can choose the perfect upholstery fabric for us.
COTTON
One of the staples for sofas is cotton sofa fabric. There are many reasons why cotton sofa fabric material is widely used, the first one being it is very cost-efficient when compared to others. It is a very versatile fabric that dyes easily and even gets patterned beautifully. Be it crispy white to leopard print, cabana stripe to deep indigo cotton comes in endless options. Cotton doesn't fade easily which gives you a benefit, as you can place it anywhere.
The only downside of cotton is it easily gets stained. So get it professionally treated before bringing it to your home.
LINEN
Linen has a texture ranging from smooth to lustrous, or chunky to nubby because of a loose weave than cotton. The thing about linen is it gets wrinkled and stained easily. Linen fabric which is performance or says performance linen is mostly the go-to-go choice for places that have heavy usage or kids and pets at home. As compared to linen, performance fabric is a much more durable option. performance fabric has more structure than regular linen, so comparatively performance fabric holds shape well than linen fabric and it is more soft and comfortable too.
Linen is the best option for everyday use, as a quick wash is what it needs to look great again. Linen offers convenience for busy housewives for a better cleaning experience. They are highly customizable which gives you a wide range of experimenting chances.
VELVET
Velvet is one of the softest fabrics available, is silky and fabulous to touch and feel. The depth of the fabric makes the hue look richer. The con of velvet is it is expensive and can get stained easily if not taken action as soon as something spilled on it. For those who want velvet as their regular sofa, a tight weave sofa fabric is recommended as it can withstand everyday wear and tear.
While buying velvet fabric make sure you choose velvet that is woven with high-performance polyester so that it can resist fading, crushing, stains, and heavy traffic.
CHENILLE
Chunkier than velvet, chile has closed loops than velvet. Though it is soft and cushy to touch they add more durability to the fabric. Like every other fabric, it is said to choose performance chile for stain resistance. This is not recommended for homes with pets as the claw of your pets might harm the fabric. Chenille is known as a cousin of velvet.
MICROFIBER
If you are someone who loves the feel the suede fabric gives, microfiber fabric is an amazing choice for your household. As it is stain resistant and cost-effective. One downfall of microfiber fabric is it attracts hair and fur a lot. So using this fabric in the homes of pets is not recommended but if you are willing to lint roll every few hours you can easily get this for yourself.
LEATHER
Leather is one of the most luxurious and rich fabrics. This is one of the reasons why you'll find iconic pieces of furniture in leather. Leather is one of the most sophisticated, durable, and stain-resistant fabrics. You can style your leather in any form, as it is highly versatile. Be it ultra-modern or traditional old-school furniture. Leather is like wine. The older it gets the more beautiful it becomes. Leather is anti-allergic, which makes it perfect for those who are allergic.
If we talk about the downfall of the fabric. leather is a costlier fabric. If you are someone with a limited budget you can consider faux leather. And if you want to change your interior every few years swapping leather can be costly. Another thing leather comes in a limited range of colors.
OLEFIN
After synthetic fiber polyester, olefin is the most produced fiber. It is easy to clean fabric, and even durable. If you have pets or children this is a perfect choice as stains and spills can easily be cleaned from them. If you get tougher stains the fabric can easily get bleached.
Olefin doesn't absorb water, which makes it mold resistant and water stains are not a problem here. Olefin comes in a great number of colors and they don't even fade. Olefin fabric is mostly found in cars, carpets, clothing, upholstery fabric, and even in rope.
Olefin has bonds of oil in it, which makes oil stains harder to be removed. If you apply heavy heat to the fabric it may break down, which can only occur if you use an iron or dryer of high temperature.
WOOL
Sofas are the most used sitting arrangement in our home. A sofa should be comfortable and fluffy. And when we talk about soft and fluffy, nothing can be compared with wool. Wool is one of the resilient fabrics. Wool keeps the sheep safe from every kind of weather change so does the wool fabric will keep you chairs, sofas, and couches safe from everyday wear and tear. Wool stays in its shape for a very long time making it durable and wrinkle free.
This wool has a natural coating of Merino, which doesn't let dust build up on the fabric. The technology makes this melino softer and doesn't let it bother or irritate sensitive skin. Merion school has an elastic nature, which makes it feel soft and spongy while using it. As per scientific studies it is stated that Merino wool has an ability to adapt the body temperature of ones, and even is breathable. Even wool is not static generating fabric which keeps dust and particles away unlike synthetic fibers.