When you move into a new apartment, buying the first furniture you see can be tempting. However, take some time to consider your needs and personal style before making any purchases. After all, you want your new place to be comfortable and stylish.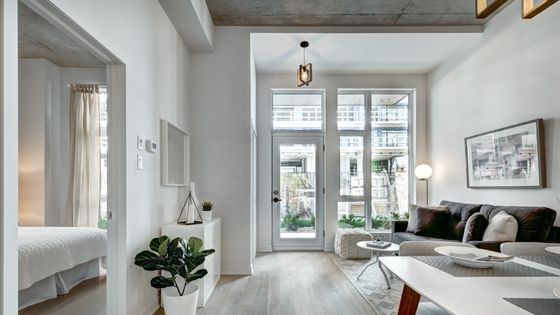 Start by taking inventory of what you already have. You may be surprised that you already have some pieces that can work in your new space.
Nevertheless, here are a few tips to keep in mind as you shop for furniture.
1. Think About How You'll Use Each Room
Before shopping for furniture, it's important to take stock of how you'll use each room in your apartment. The living room, for instance, is typically a space for entertaining guests and relaxing, so you'll want to choose furniture that promotes comfort and conversation.
A sofa and a coffee table are essential; you may also want to include a few chairs and end tables.
On the other hand, the bedroom is a space for rest and relaxation, so you'll want to focus on creating a comfortable and inviting atmosphere. A bed, of course, is the most important piece of furniture for any bedroom, but you'll also need a dresser or chest of drawers for storing clothes.
Once you've determined which pieces of furniture you need, you can start shopping around for style and price. Furnishing your first apartment can be a fun and exciting experience with a little bit of planning.
2. Consider Your Budget
Before you start shopping for furniture, it's important to consider your budget. Otherwise, you could end up spending more than you can afford.
It can be tempting to buy everything at once when furnishings are on sale. However, it's usually better to spread out your purchases over time. That way, you can take advantage of sales and coupons and avoid debt.
Start by furnishing the essentials, such as a bed, couch, and dining table. Then, you can add other pieces as your budget allows.
When setting a budget, be sure to factor in the cost of delivery and assembly and any warranties or protection plans you might want to purchase. By taking the time to plan, you can furnish your apartment in a way that suits both your taste and your budget.
3. Look for Multifunctional Pieces
When furnishing your apartment, it is important to look for multifunctional pieces. For example, a sofa that doubles as a guest bed can be a great space-saving solution. A coffee table with built-in storage can also be a great way to reduce clutter.
When choosing furniture, it is important to consider how you will use it. A dining table, for example, can double as a work surface or a place to entertain guests.
By thinking carefully about how you will use each piece of furniture, you can make the most of your space and create a comfortable and stylish home.
When choosing multifunctional pieces, it's important to ensure they fit well with the rest of your decorating scheme.
4. Shop Around for the Best Deals
There are several ways to find great discounts on furniture and other home furnishings. One way is to check online retailers such as Amazon or Overstock. These sites often offer significant discounts on items that are closeouts or last season's models.
Another way to find bargains is to shop at local garage sales or thrift stores. You can often find gently used furniture for a fraction of the price of new items.
Finally, don't be afraid to haggle with salespeople at furniture stores. They may be willing to give you a discount if you tell them that you are shopping around and looking for the best deal.
5. Think About Future Needs
When furnishing your apartment, it's important to think about your future needs as well as your current ones. For example, if you're planning on starting a family soon, you might want to buy furniture that is safe for children.
Or, if you're considering moving to a larger place shortly, it might be worth investing in bigger pieces that can make the move with you.
For example, if you live in California, Santa Ana luxury apartments are spacious and feature upscale finishes and fixtures with a stylish extension of your personality. Therefore, they're great units if you ever plan on expanding your family or just want a spacious apartment.
Conclusion
Now that you have a game plan, it's time to put your shopping list into action and start furnishing your apartment. Remember to take your time, and don't be afraid to mix and match different pieces to create a look that is uniquely yours.
With a little patience and effort, you'll soon have a comfortable and stylish home perfect for entertaining friends or relaxing after a long day.