SEO: A backbone Of Your Digital Presence
Digital presence is the existence a person, business or corporation has on the internet. This is through the use of the internet that connects the world at a global level and transcends physical boundaries to expand businesses and customer reach.
It won't be wrong to suggest that the world today is entirely digital. This statement implies that from learning, interacting, buying, selling and etc. everything is done just a click away. The advent of internet-connected smart devices has further up the game or many marketing strategists out there who have to constantly ensure that their content, products, and websites do not lose sight of the end goal which is the customers.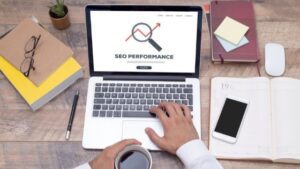 However, the digital world is crowded, and to stand out one must understand how it can be turned to their advantage through the use of SEO (search engine optimization). SEO is the backbone of the digital world since it connects with right information you're looking for. A search engine, such as Google, uses algorithms to display results to the user. The order of results displayed is done by the use of these algorithms in which the content of a webpage is judged and ranked. There are many factors against which the ranking is done and these factors change over time to provide a better user experience.
The more optimized your content is for the search engine, the better your chances are to be displayed on the first page of the results page. The customer reach is close and you are able to do more in less time because you are investing in the right place.
SEO Benefits: Skyrocket Your Business and Drive More Traffic
Your website requires organic traffic and a high visitor to customer ratio but if it is on a decline then you may want to rework your SEO. The benefits of a continuously maintained SEO mean that your ranking stays on top even when changes are done to the ranking algorithm.
Being on top means many doors to revenue open for you. People use search engines to make their queries and 70% of the traffic website gets through SEO is organic. The remaining might be by the use of ads or recommendations.
Organic traffic means that your potential customers are not going to leave your website once they visit it since they found exactly what they were looking for. A well-written and carefully designed webpage will automatically sell your product/service and progress your revenue. This is why driving organic traffic on your website is essential.
Search engine looks at the content quality in detail to satisfy its customers in terms of the results that it displays to them hence it improves its algorithm and urges the SEO experts to keep up with the changes to skyrocket their business. From mobile-friendly display to quality content, every effort directed towards optimizing your website will be taken into account by the search engine and results will get improved.
5 Supercharge SEO Techniques to Boost Organic Rankings in 2022
1. Search Intent Matters
A user typing in a query like "quick pasta recipe" may mean the user wishes to cook them now in the crunch of time, the result of this search may direct the user towards recipes that require 40 minutes of oven time. The user will quickly leave the website and explore another result. Leaving the website implies the user bounces off from the result and is not satisfied. This negatively impacts your website.
2. Improve Your Page Loading
When it comes to website speed, there are a number of important factors to consider. One of the most important is how long it takes your webpage to load. The faster your page loads, the better your SEO targets are achieved and the happier your users will be. Overall the user should have a good experience interacting with your webpage.
3. High-Quality Content
Content is KING! At least when it comes to SEO. And without high quality content, your website and online presence will be significantly lacking. This is why it's so important to focus on creating valuable and engaging content for your site if you want to rank well in search engines. There are a few ways to achieve high quality content, but the most important thing is to keep your readers engaged with interesting and useful information. If you can do this, you'll be well on your way to building a successful website and online presence.
4. Optimize Your Links
If there is any terminology, service or reference that you give in your content, it is appreciated. Providing information like this allows readers to learn more about what you are discussing and how it may apply to their lives. Additionally, citing your sources gives credit where credit is due and builds trust between you and your audience. When possible, include links to external sources for further reading.
5. Optimize Mobile Devices
Interaction with the internet these days is done majorly with mobile devices. If you're not sure how your website looks on a mobile device, there are several online tools that can help you test it. If your website isn't displaying correctly on mobile devices, you may want to consider investing in an app. An app can be designed specifically for your company or organization and can provide a better user experience for your customers or members.
Conclusion
Search engine optimization is the need of the hour. On-site or off-site, both types are contributing actively to the improvement in organic visibility of the website of a business or agency. However, the process of optimization is ever-evolving and the search engine algorithms keep updating.
In such a scenario it is important to work with experts who know their way in and out of SEO and will help boost your revenue. Though, working with SEO experts can help you achieve your ranking goals and other vital factors such as, they can help you create a comprehensive search engine optimization (SEO) strategy, identify and fix on-page issues that may be hurting your site's ranking potential, and provide insights into how to improve your website content for better rankings.