If you know someone who complains about the cold when everyone else feels fine, that gives you an outlet when it comes to shopping for them. Provided below is a solid dozen gift ideas for the chronically chilly people in your life.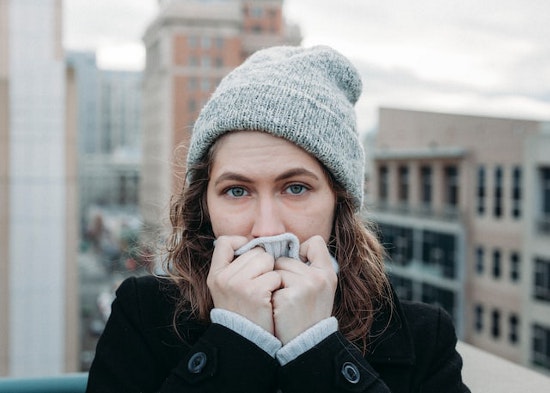 A Coat
When you live in a frigid climate, you can never have too many coats! While you have some options when it comes to thickness and materials, a coat, especially one with a neutral color, is a great way of giving an extra layer of warmth and protection.
Socks
Socks are a great gift for anyone since we all use them, but especially your friend who easily gets cold! A quality pair of Merino wool socks can do wonders for keeping a person's feet nice and warm.
Premium Hot Cocoa
Sometimes the best way to warm someone up is to provide them with an internal mechanism. Providing such an internal warming solution is where a hot cup of cocoa, made either on the stovetop or within a microwave, comes in handy. Rather than trying to keep heat from escaping with extra layers of clothing, your friend can warm up their body starting from the inside.
Thermal Underwear
Also known as long johns, this is a wonderful full-body option for keeping your friend warm as it provides an excellent means of trapping body heat while also being thin enough to wear under a normal set of clothes.
A Handwarmer
This is a relatively simple handheld device that generates heat for several hours. All your friend needs to do is clutch their fingers around this item and they can feel any annoying chills just melt away.
A Portable Heater
One of the best ways to deal with recurring bouts of chilliness and cold is to have a heater pointing straight in your direction or at least blasting heat into the general vicinity of your person. While there are several different sizes of space heaters, from chunky units best suited for a non-carpeted floor to smaller units suitable for a work desk, it is important to bear in mind the variety of risks that such a device can carry. After all, you want your friend to keep warm as long as possible but you do not want their place to catch fire or even burn down in the process.
Heated Mat
Consider this the office worker's equivalent of the electric blanket. This sort of item is just a mat that you can place beneath an office chair and it radiates a regular supply of warmth while it remains plugged into an outlet.
Typing Gloves
It can become physically difficult to type when you are in considerably chilly conditions, thus this sort of gift has entered the market. This is a specialized pair of gloves for anyone who regularly works at a desktop or laptop computer. Each glove features a pocket for storing a USB-powered heating device, allowing the user to get all of the typing they can while plugging the gloves into their device's USB port; this way, the gloves can maintain a constant supply of power and their wearer can enjoy a constant source of warmth around their hands and fingers.
Upper-Body Heating Pad
This particular item is a new version of the heated blanket but one that is shaped to fit against the wearer's shoulders, back, and neck. Just plug the batteries into the attached control device and the wearer can tweak how hot they want the padding to get. This device even includes a timer option for when someone wants to manage their time or energy costs.
Heated Toilet Seat
This particular device is so handy that even the average person might like it. Simply swap out your toilet seat and pick your settings on the seat itself or with the affiliated smartphone app and enjoy a nice warm seat every time you need to go.
Heated Vest
This is a more direct and obvious means of staying warm. Not only is it an extra layer to be worn, but this layer also contains some internal heating elements.
Milk Frother
This is another idea for keeping someone warm that does not involve clothing or layers. Simply put, this is a dedicated tool for warming and frothing up milk for drinks like lattes and cocoa.
Conclusion
We hope you enjoyed this list of gift ideas for your friend who is always cold. There are a wide variety of options, so we're sure you'll find the perfect gift for your loved one. Happy gifting season and good luck helping those close to you stay warm!