We all love eating desserts after every meal.
Baking is considered to be an art and baking makes you stress-free.
When you bake at home, the smell in the house is filled with the dessert you are making and it makes you happy too.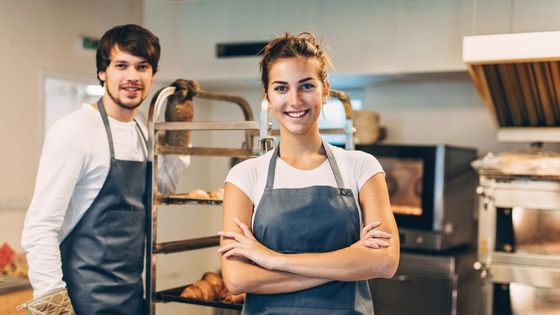 For people who love baking, you can gift them different types of things that we need while baking.
Here we have made a list of 10 useful and amazing gifts that are needed for baking
1. Cheat Sheet Apron
When you are baking, you wear an apron to prevent your clothes from getting dirty.
You also need a conversion table if you get stuck somewhere and you don't always have the time to take your phone and search.
This apron has a conversion measurement sheet printed on it that helps you convert the measurements easily.
Gift this to the baker who is messy and always needs help with measurement.
2. Frosting Deco Pen
If your friend is a home baker and not a professional one, then you might know the struggle of piping bags.
Decorating a cake is so difficult as you need precision and technique.
Frosting in piping bags is so difficult to handle.
This deco pen makes decoration easily as it is easy to use and has six different tips at the end.
Gift this to the baker who is trying to be a professional baker soon.
3. Silicone Spatula Set
If you are baking at home, you need a spatula for mixing things up.
This set of spatula has 3 different spatulas with each spatula of different sizes.
This helps you use the spatula according to the quantity you are making and prevents you from taking too much time too.
This makes the perfect gift for a baker.
4. Speed Hand Mixer
If you are a baker or know anything about baking, you know that mixing is a crucial part of any baking.
Your hand hurts after you mix for a long time and sometimes the content doesn't mix well.
This speed hand mixer mixes anything in 10 seconds or more and saves you both time and pain.
Get this hand mixer for the person who loves baking.
5. Measuring Spoons
Baking is all about working with measurements and preciseness.
You have to add the exact amount of content in the recipe.
These spoons let you measure any necessary measurement.
The spoons never get lost as they have magnetic in the tip and also they can be cleaned easily.
These spoons make the perfect gift for your baker friend's birthday.
6. 101-piece Cookie Cutter set
Cookies are everyone's favorite and baking cookies at home is very easy.
People love to eat a freshly baked cookie at home.
This cookie cutter set has 101 pieces including the alphabets, numbers, and some other Christmas decorations.
This will help the baker to cut cookies in any shape they want.
This is the perfect gift for a birthday or at Christmas with your baker friend.
7. Baking Scale
When you are baking something, only precision matters the most.
This baking scale will help you in measuring anything you want and will make baking easier for you.
The scale is extremely portable, so you can carry it to your friend's house or relative's house as well.
This scale makes the perfect and sweetest gift for someone's birthday.
8. Marble Pastry Board
While making a great pastry, you don't want the dough or flour to stick around on the kitchen floor.
This marble board will not let the dough stick and you won't need much flour to knead it.
You can also roll out the dough in this marble board and it will make it easier to make the pastry.
This marble pastry board is pretty in color and non-sticky and easy to wash too.
This is the best gift you can give to your baker friend.
9. Natural Aluminium 3-piece Baker's set
If you are a baker or know about baking, you know that you want utensils that should corporate with your oven or microwave.
These trays are big and are compatible with any oven or microwave.
These aluminum trays can be used to make the pastry, cookie, cake, etc.
These trays are the best birthday gift for the baker who loves baking.
Your friend will love this useful baking gift.
10. Cake Server Set
If you are making a cake, its presentation should be the top priority too.
You should know how to cut a piece of the cake perfectly and serve it too.
This cake server set has a knife and the utensil that holds the cake still.
Using this, you can serve a perfect piece of cake that fills your mouth with water.
Gift this cake serving set to the person who loves to bake and eat a cake.