As content saturation increases on social media platforms, influential personalities try to present content from multiple niches to engage with their audience on different levels and keep them entertained. These digital mavens have the power and ability to captivate followers by showcasing their dynamic lifestyles and influencing their perspectives and decisions. Lifestyle is a broad term that includes everything from fashion, fitness, and a way of living life to travel and home décor. And to delve into the world of the best lifestyle instagrammers in India, brands need to partner with an influencer marketing agency, as they know how to make choices which are subjective to time, trends, social and ethical standards, etc.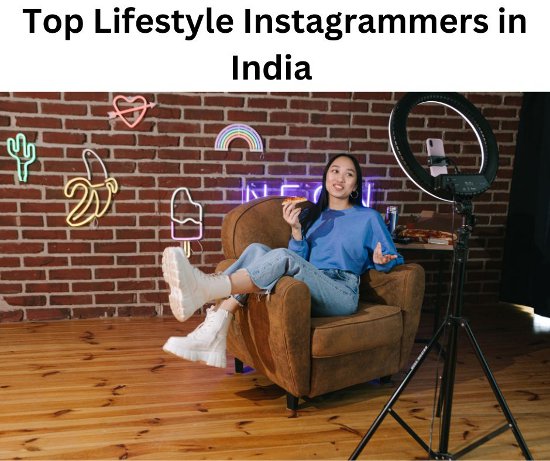 What sets lifestyle influencers apart is their diverse content showcasing their journeys, personal interests, and lifestyles. These people have garnered a massive following on social media platforms by showcasing their lifestyles, interests, and personal journeys. These influencers connect with their audiences on emotional grounds through visually appealing content and relatable stories. They often focus on various aspects of lifestyle, such as fashion, beauty, food, travel, home decor, fitness, and more.
List of the Best Lifestyle Instagram Influencers in India
1. Masoom Minawala Mehta
Masoom Minawala Mehta is one of the Instagram lifestyle influencers who began her lifestyle journey through her blog, Style Fiesta, in 2010. She identifies herself as a lifestyle influencer, fashion creator, and entrepreneur. With her impeccable style and creative approach towards enhancing her and her audience's lifestyles, she has leveraged a total follower base of 1.3 million and average views of 291K on her Instagram handle. Being a lifestyle icon, she often gets invited to events like Haute Couture Week and partners with brands like Shisen Fox and Airbnb.
2. Rizwan Bachav
Rizwan Bachav's other name is luxury lifestyle influencer because of the way he represents himself on Instagram. From luxury cars and classic watches to stunning outfits and statement styles, Rizwan has become one of the finest lifestyle Instagram influencers in India. He is an investment banker by profession but also identifies himself as an Instagram lifestyle influencer, a digital creator, and a marathoner. He has a total follower count of 131K and average views of 4K on Instagram, through which he has collaborated with luxury brands like Ferrari and Hublot.
3. Diipa Büller-Khosla
Diipa Büller-Khosla, a Dutch-Indian fashion and lifestyle influencer, has significantly impacted the industry as the best lifestyle influencer on Instagram. Besides being featured in Vogue, Elle, and Grazia, she made an astonishing appearance at the Cannes Film Festival in Manish Malhotra's feather-accented saree. Through her practical lifestyle tips, stunning looks, and impeccable styling, she has leveraged a total follower count of 1.9 million and average views of 105K.
4. Karron S Dhinggra
Karron S Dhinggra, aka The Formal Edit, is one of the top lifestyle Instagrammers in India and is a lawyer, traveller, and digital creator. His content concerns menswear suggestions, grooming, and lifestyle tricks and tips. His unique selling point is his specialisation in showcasing luxury outfits that are cost-effective and budget-friendly. Through his efforts to normalise pocket-friendly fashion over luxury without compromising its appearance, he has accumulated a following of 1.1 million and average views of 2 million on Instagram.
5. Rij Eappen
Rij Eappen is among the best lifestyle Instagrammers in India and curates content in various niches. His bio reads luxury lifestyle, fashion, auto, F&B, and travel, so you can guess the hype. And with the launch of WYLD, he has successfully started his entrepreneurial journey. With a total follower count of 132K and an average of views on Instagram, he has managed to barge brand deals with BHPC India, Allen Solly India, Hackett London, etc. His influential personality has also leveraged brands like Puma to collaborate with her athletic daughter, Noa Eappen.
6. Mitali & Summiyya
Mitali and Summiyya are two of the best lifestyle influencers on Instagram and the co-founders of House of Miso. They identify as lifestyle Influencers and fashion consultants and share a shared taste for lifestyle, fashion, and beauty. The duo, fashion connoisseurs, aspires to navigate their audience, not confined to trends but trying original styles, inducing creativity into the lifestyle and everything. House of Miso has a following of 484K and an average of 31K views on their Instagram handle.
7. Aashna Shroff
Aashna Shroff is one of the best Indian lifestyle Influencers who channels content from niches like lifestyle, fashion, beauty, styling, and personal life. She is a well-known lifestyle instagrammer with a total following of 966K and an average of 165K views on Instagram. Besides being invited as a guest at Haute Couture and #DiorFall23" shows, she has collaborated with several brands like Victoria's Secret, Diesel, L'Oreal, Nykaa, Maybelline, and Estee Lauder.
8. Jannat Zubair Rahmani
With extraordinary talent as an actor, lifestyle influencer, dancer, actor, and digital creator, Jannat Zubair Rahmani has accumulated massive audience outreach. She has become the talk of social media through her hard work and dedication, registering herself as one of the top lifestyle influencers in India. Being a part of a gazillion TV shows, films, and music videos, she has won many accolades, establishing herself in the film and marketing industries. Jannat has a total following of 46.6 million and an average of 3 million views on Instagram.
To Sum Up
Lifestyle influencers in India have built a solid digital presence and captivated an authentic social media following with their unique lifestyles and relatable content. By collaborating with such influencers, brands can extend their online presence, reach, and visibility beyond their expectations, as they can act as brand advocates. And who is a better choice to help brands get the best lifestyle influencers on Instagram than Grynow, the renowned influencer marketing agency? It's a win-win situation that benefits everyone! So, why wait?