Salesforce is a customer relationship management (CRM) platform that helps businesses manage their customer interactions and data. It provides a centralized platform for storing and organizing customer information, as well as tools for automating and streamlining sales, marketing, and customer service processes.
With Salesforce, sales teams can track leads, opportunities, and customer accounts, and use analytics and reporting to gain insights into their sales performance. Marketing teams can use the platform to manage campaigns, track customer interactions, and measure the impact of their marketing initiatives. Customer service teams can use Salesforce to manage customer inquiries, resolve issues, and maintain a knowledge base of information.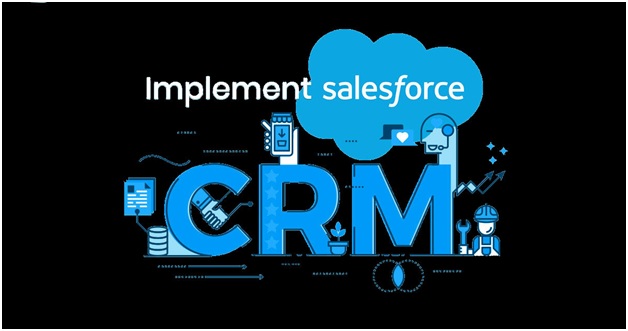 In addition to these core features, Salesforce offers a variety of customizations and integrations, making it a highly versatile and customizable platform for businesses of all game development company and software industries.
Five steps to a Successful Implementation
1. Preparation and Planning
Proper planning and preparation can make your company come up trumps.
The very first thing you have to do is to make a checklist of your company's objectives, vision, and goals to enhance the growth of your company. Along with this, identifying your resources is a great thing you can do as it will help you stay organized.
Successful implementation is not possible without building a core team. Build a team that includes an executive sponsor, system administrators, project manager, other users, and efficient trainers. The role of an executive sponsor is to participate and support the initiative from the beginning to the end and beyond whether a project manager leads the implementation and make sure that everything is on the right track and running on time.
After building your team, it's time to set some realistic goals. Jot down the initial objectives that are easy to attain and then start outlining the necessary implementation tasks. Knowing the requirements and needs of your end-users is crucial for salesforce developers and the overall growth of the company.
Now the next question arises, and that is ' which development methodology should we use'? As you know, the implementation approach includes a waterfall and scrum methodology. A waterfall approach is a traditional approach that provides for at least five sequential stages. They are gathering documents, designing, code and unit tests, system testing, and deploying. Serum methodology is more flexible and follows no strict structure. Many companies choose this iterative approach as it provides opportunities for flexible solutions.
After choosing your approach and jotting down all the requirements, it's time to build a project timeline that includes the estimated time required to design, develop, and deploy.
If you're looking for top companies for Salesforce implementation, integration and customization service, you can search online to get a comprehensive list of reputed and emerging salesforce consulting companies.
2. Define your goals and requirements:
Before you start implementing Salesforce, it's important to understand what you hope to achieve with the platform. This will help you determine the specific features, functionalities, and customization you need to meet your goals.
3. Choose the right Salesforce configuration
Salesforce offers a range of configurations, including Sales Cloud, Service Cloud, and Marketing Cloud, among others. Choose the one that best fits your needs and goals.
4. Customize and integrate
Salesforce provides a wide range of customization options, from simple UI tweaks to complex customizations using its APIs. Integrating Salesforce with other tools, such as marketing automation platforms or financial systems, can help you get the most out of the platform.
5. Train and support
Once you've set up Salesforce, it's important to train your users on how to effectively use the platform. Provide ongoing support and resources to help them get the most out of Salesforce, and be prepared to make changes and
6. Setup & Customization
After completing the above procedures, it's time to set up and customize the Salesforce CRM. It is advisable to keep the initial implementation simple. Start with defining the security settings, which include user-profiles and wide-defaults roles. Then create a custom layout, page layout, custom tabs, and rules to customize the application. Create and customize standard reports to include any custom fields.
7. Deploy Salesforce CRM
The first step to making your salesforce CRM production-ready is adding users. You can load users either manually or with a data loader. To be on the safe side, it is better to load them first into a sandbox environment rather than a production environment. When done, now you can import the data. Schedule enough time to test the data and train the end-users at the same time. It is advisable to define contact with end-users so that they can easily put up their queries for you to solve them at the same time.
8. Encourage Adoption
After deploying, it is important to get support from your users. A sponsor must communicate with the users to clear all their doubts and explain the why to the users. You should make your users understand the goal and reason for the implementation of salesforce and how they can use it. To encourage successful user adoption, it is important to identify the barriers and handle them appropriately. Make them aware of the benefits and the capabilities of the salesforce.
9. Manage releases
Once it is live, it's time to plan for the next phase. Make a new function available for the users and answer the user's request for easy and successful salesforce development. Tracking and monitoring sales performance is also crucial for growth.
Conclusion
With a proper planning and implementation approach, it is easy to run a Salesforce CRM. With support from executive sponsorship, building your project time and communicating with end-users becomes easier. Furthermore, customizing the application according to the company's needs and keeping a close eye on users to meet their needs can bring more success to the business.