You've come to the right place if you're looking for some inspiration to give your home a clean and elegant look. This blog post will discuss 6 decor ideas to help you achieve a sophisticated aesthetic in your home. We'll provide tips on suitable furniture, area rugs, decor items, and wall colors. So whether you're just starting with your decorating project or looking for some new ideas, read on for inspiration!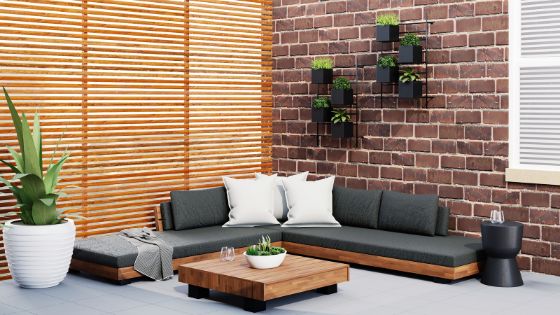 A clean and elegant decor must have clean lines in its furniture and decor items. Area rugs should also pursue clean lines with an easy design. The wall color should be light neutrals like white, cream, or light gray.
1. Adding Greenery To Your Clean And Elegant Decor
You can never go wrong with adding some greenery to your home. Plants add life and freshness to any space. Choose clean-lined pots. Plants can magically soften edgy décor; houseplants bring life to every room. Greenery brings beauty, character, texture, and good energy into every space.
Decorating our home with plants can be very easy and does not need any second thoughts. Note that no matter your experience with plants, you should still be confident about including them in your clean and elegant house or apartment. Plants can add so much character to a room. They liven up a space, and there are so widely different varieties of plants.
2. Clean And White walls
White walls always look clean and classic. If you lean toward a clean, minimalist look, your white walls are the perfect base for a clean and elegant look. There's a reason why just about every rental has walls painted some version of white: It looks clean and fresh and works with every other color.
White on its own can be a bit sterile, but too much color can lead to overload. The perfect compromise is a room that marries white with one strong color: navy blue, red, emerald green, sunny yellow, or even purple or pink.
3. Spread Your accent color
Throughout the space: Curtains, throw pillows, bedding, rugs, artwork, and light fixtures can all add a punch of color that depends on the white walls to keep things managed yet never boring if you like the color but are stuck with white walls, no problem. A room filled with colorful furnishings and accents benefits from white walls' effectiveness at preventing eyeball fatigue. So go ahead and mix and match your favorite bright colors on furnishings, colorful rugs, window treatments, and decorative accents. You can style your white walls with other colors and put wall paintings on them. Those white walls will keep the look fun, not dysfunctional.
4. Adding Decor On White And Clean Walls
If you find white walls boring, then liven them up with something fascinating—a collection of your favorite posters, prints, paintings, or photographs. Go with one oversize piece, a collection of smaller works, or a carefully curated gallery wall of photos of memorable vacations, beloved family members, or pets—whatever you like finest.
It's not just about the color. It's about the objects on which the color appears! Add doses of colors in different interesting ways. Keep a thread of similarity running through the art for a cohesive look. Matching frames, unifying themes, or combined color schemes are easily achieved possibilities. Hanging a plethora of colorful framed pieces on the walls also go with the elegant white walls.
5. Dark Flooring On White Walls
When we talk about the contrast of dark and light, you need to consider some specific characteristics of such combinations because they create an optical change in space. Dark flooring is equally popular in living rooms and other areas. A dark floor can make a space visually smaller and narrower, but this can be avoided easily by using light shades in the interior and other decorative elements.
Black flooring looks elegant and sophisticated. In small spaces, black floors can create a dark aura and make the room appear smaller. If that is your pick of color, you should use the ultimate amount of light shades for the rest of the room interior, which will help you avoid the negative impact of black.
Dark grey flooring is as popular as black. Grey flooring can be mixed with many colors and shades to create a refined interior, making this solution versatile for any room.
Brown flooring can also be called universal, and depending on the lighting, each shade of brown looks different every time. It works with almost any interior style and adds warmth and coziness to the room. Brown shades work harmoniously with many other tones from different color schemes.
6. Furniture Ideas On White Walls
A White Sofa With Clean Lines And No-Frills: This idea is perfect for homes with a more modern aesthetic. The sofa's clean lines will complement the other pieces in your room with clean, elegant lines. With this sofa in your room, you can choose to add a pop of color with your area rug or throw pillows, or you can keep it simple and clean with white walls.
A Round Coffee Table: A round coffee table with white walls is a clean and elegant look that can work in any home. You can add a pop of color to your room with a colorful vase or flower pot in the center of the coffee table.
A White And Brown Dining Table: This is a clean and elegant look that can work in any home. You can add a pop of color to your room with a colorful tablecloth or runner.
A Clean And Elegant Bedroom: A clean and elegant bedroom with clean lines is a classic and elegant look that can work in any home. You can add a pop of color to your room with colorful bedding or by adding a colorful throw pillow to your bed. This will create a modern monochrome look.
A White Elegant Living Room: Add color with books collections and put multiple colors of rugs that will make it more fun. Use clean lines for your furniture and keep it simple yet elegant. You can use a white sofa and add colorful pillows to make it look more clean and elegant.
A Clean And Elegant Kitchen: The kitchen is one of the most important rooms in your home. It should be clean and elegant. You can use white cabinets and countertops with a backsplash of your own will. You can also add a kitchen island for more storage. Add neutral colors such as ice blue, cream, and beiges to make a kitchen look elegant and expensive.
Add Mirrors On Entryways: Mirrors are perfect for entryways because they help brighten things up by reflecting light. They also make the space look bigger. You can add a mirror on the wall or get a floor mirror.
Add An Area Rug: You can add area rugs in clean and elegant lines to your living room or bedroom. This will help warm up the space and make it look more inviting. You can see rugs at stores like RugKnots that completely reflect your house's clean and elegant look.
Choose Clean And Elegant Furniture: Furniture plays a role in the outlook of your home. Go for clean and elegant lines when selecting your home, bedroom, sitting room, and dining room.
In Conclusion:
These clean and elegant decor ideas will help you achieve a sophisticated look in your home. You can create a modern and inviting space by picking the right furniture, area rugs, and decor items. So that completes our list of six ideas to help you create clean and elegant ideas for your sophisticated house. Do you have any leads to add? Please share them with us in the comments down below!